Weekend Returns #8: What a Tangled Web the Kings weave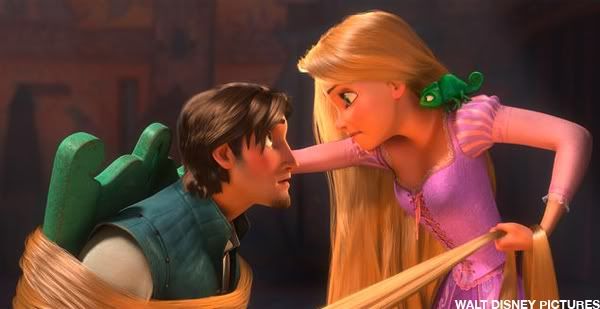 The No. 1 movie of the weekend was Disney's Tangled, unseating Harry Potter and the Deathly Hallows. Funny thing is Tangled came out on November 24th. And it's December 6th.
Look, I get that family fare usually gets the bigger boost at the box office, especially during the holiday season. A family unit where the parents are usually out-voted is the norm, which I can verify. But sometimes you have to wonder what the hell is wrong with people.
The Warrior's Way is a western with frakking ninjas in it! With
Kate freakin' Bosworth wearing a bodice
?!? How can that not rocket to the top of the charts? How in the hell can that Xtina Aguilera/Cher train wreck, Burlesque, pull in double the amount as cowboys and ninjas?!? Sure it's on more 1,400 more screens, but the average take of each flick still showed Burlesque made more per screen.
To paraphrase Heath Ledger's Joker "What happened, did your balls drop off?!?" I demand that you go out this weekend and find a screening of The Warrior's Way and, at the very least, help it make more than Burlesque.
The Kings rebounded from a completely crappy November by winning the first two games of The December to Dismember. will it be enough to alter the media's view of the team? Let's find out...
• The Hockey News' Adam Proteau's
Week 8 rating
: 10. Last week: 10.
Blueliner Jack Johnson a minus-8, second only to left winger Kyle Clifford (minus-10) for worst mark on team.

• TSN's Scott Cullen's
Week 8 rating
: 11. Last week: 12.
D Drew Doughty has gone eight games without a point, his longest streak since a nine-game drought in December-January of his rookie season.

• Versus.com's Brian Metzer's
Week 8 rating
: 12. Last week: 13.
Starting to heat up again?

• ESPN.com's Scott Burnside's
Week 8 rating
: 14. Last week: 12.
A big overtime win over Detroit on Saturday was their second in a row, but the Kings are still on the aimless side with just three wins in their past 10 games. Team defense and penalty killing are stellar, but team offense and the power play need to pick up the slack to ensure a return to the playoffs.

• CBSSportsline's Wes Goldstein's
Week 8 rating
: 14. Last week: 12.
Still trying to figure where the offense has gone of late, but in the meantime, the Kings have yet to allow a goal in 43 shorthanded situations at home this season.

• Sportsnet's Scott Brophy's
Week 8 rating
: 18. Last week: 18.
The Kings had been spiraling downward, but a win over the Red Wings is cause for celebration.

We tabulate the assorted rankings and enter it into the BASF 7120 with its three 5 1/4 inch floppy disk drives, single sided, double density and beautiful monochrome built-in display and we get the Kings' official Hockeywood Power Ranking of
13.1.
Brutal.
So, continuing on the newest Hollywood genre: "Cowboys vs. (Fill In The Blank)," it seems the entertainment business is on the verge of burning out this sub-genre right into the ground.
Rockstar, a videogame developer known for its multi-million dollar franchise, Grand Theft Auto, tried its hand at making an old Western videogame called Red Dead Revolver for the Playstation2. It was so popular, it spawned a new game called Red Dead Redemption. One of the downloadable add-ons is called
Undead Nightmare
. That's right, Cowboys vs. Zombies.
You'd think you wouldn't be able to find a more whacked out Cowboy premise, but you'd be wrong. Universal Pictures is making a movie about cowboys and aliens called, oddly enough, Cowboys And Aliens. Directed by Jon Favreau, CvA features former James Bond Daniel Craig (!) and Harrison Ford (!!). It's worth a look-see.
Trackbacks