Game 25: Kings jam Red Wings as they jump in the West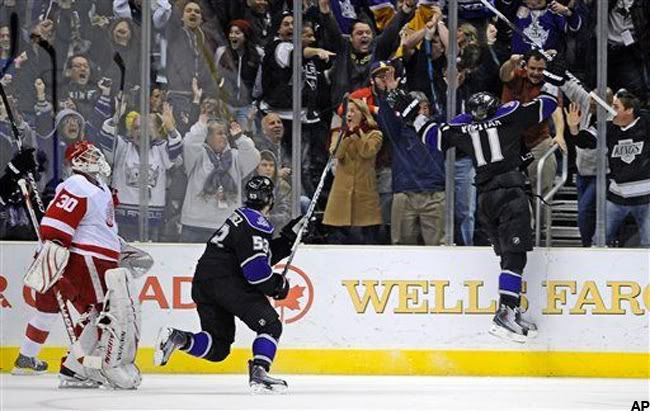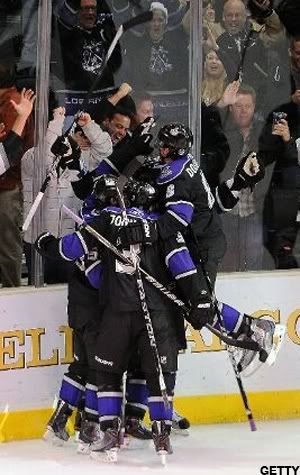 Game 25: Kings 3, Red Wings 2 (OT)
In the NHL, there are some wins that can be considered good wins. Then there are wins that exceed being "good" and transcend into something else.
Hopefully, the Kings' overtime win over the red-hot Red Wings will be considered the latter.
Heading into this month, the Kings were listing to port. Losers of seven of their last eight in November, the Kings are now 2-0 in the December to Dismember, defeating the perennial powerhouse that is Detroit.
The win gave vaulted the Kings from the ninth seed to fourth, thanks in part to losses by the Sharks, Blue Jackets, Avalanche, Wild, Coyotes and Blues.
And for the second straight game, the Slovenian Stunner, Anze Kopitar, notched the game-winner. And after scoring, Kopitar turned and performed a modified Lambeau Leap, which I shall now go on record as the first journalist to name the Staples Spring. He sprung off the ice and bounced off the glass in a show of youthful exuberance we've come to expect from the Jumper from Jesenice, Yugoslavia. (Too much? O.K., I'll stop...)
Detroit was in control most of the game. They notched the first goal of the game, that usually doesn't bode well for their opponents. (They were 14-0 when scoring first. They're now 14-0-1. Suck it, Detroit.)
But the Kings struck in the first 24 seconds of the second period when Justin Williams scored his tenth goal of the season, sliding the puck past backup goalie Chris Osgood. Jimmy Howard was given the night off, after backstopping the shutout against the Ducks on Friday.
The tie was short-lived, however, because Todd Bertuzzi scored with less than a minute later to give the Wings a 2-1 lead. Fortunately, the Kings got it back, when defenseman Sir Alec Martinez scored his second goal of the season to lock the game at 2-2. Playing in his fifth game this season, he's evolving into a good player.
But another defenseman put in a Herculean effort Saturday night, Drew Doughty racked up a career high 30:41 of ice time. How long was he out on the ice? Doughty was out there in every scenario: even strength, power play, penalty kill... he refused to come off the ice. In fact, his even-strength ice time was more than every other King's total time on the ice, with the exception of Jack Johnson. Speaking of Johnson, he led all Kings in blocked shots and played a better defensive game than in the past fre games.
The teams remained dead-locked the rest of the way, each registering ten shots in the third period. And the game looked to be heading to a shootout before Anze Kopitar rifled the clincher past Osgood. And as Staples erupted, you could feel that this win meant something a little different. Granted, it's just one game of 82, but if there was a clear definition of a character win, that should qualify.
With the win, the Kings now have seven one-goal victories, close to half of their win total of 15. The Kings are 10-2-0 at home, but that's not their best home start to a season. In 1992-93, they started 12-1-0 at the Great Western Forum. As you can see, this club is in rare air. Through the first 25 games last season, the Kings went 14-9-2, good enough for 30 points. This season: 15-10-0 for 30 points.
This win should buoy them through the week until Thursday, when they host the
Calgary Flames
. The question remains: will the long time between games complete negate their momentum? The last time the Kings had five days off was back at the beginning of November. They were able to finish out the homestand undefeated, with wins over the Stars and the Islanders. Hopefully the Kings can replicate that success.
• AP:
Kopitar's OT goal helps Kings beat Red Wings
"Brown has a great shot, so I had to respect what he was going to do with it," Osgood said. "He made a nice pass to Kopitar and he shot it pretty quick. I thought I got across in time. If he would have shot it left and low, I would have had it. But it got back across me and just found a hole."

• LA Times:
Kings rally to defeat Red Wings, 3-2, in overtime
In perhaps their most impressive effort of the season, they rallied for a 3-2 overtime victory at Staples Center and vaulted from ninth to fourth in a tightly packed Western Conference that's still led by Detroit.

• LAKings.com: Repeat feature as Kopitar score another late winner, defeat Detroit
• NHL.com:
Kings top Red Wings 3-2 in OT
Alec Martinez started the winning play by deflecting a pass by Nicklas Lidstrom and triggering an odd-man rush. Martinez drove to the net and opened space for Dustin Brown, who carried into the zone and dished to Kopitar for a one-timer from the right circle that goaltender Chris Osgood had no chance to stop.

• Detroit Free-Press:
Osgood sharp but Wings lose in OT
"We were happy with the five points out of six, but it's still disappointing losing in overtime in the last game when there's less than a minute left to take us into a shootout," Nicklas Lidstrom said. "It's disappointing, losing the way we did."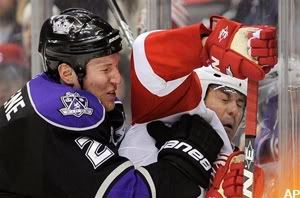 They said it
"We didn't have a whole lot of shots this game, we have to bump that number up a little more…but I think all in all it's a big two points and that's all that matters." – Anze Kopitar, on the game.

"I think the early goal in the second really got us going. They were shutting us down and doing kind of what they wanted out there…they're a puck possession team and don't give you many chances. I thought we took advantage of them tonight." – Justin Williams, on the game.

"Well, the team will never pack it in. The one thing that I think we showed last year, in our character, is that we're a gritty hockey club. You're going to get knocked down, there will be difficult times in a game or in a stretch of the season. You just have to climb back up on top and get right after it and stay after it and it paid off for us tonight. It was a good win and it was a fun game." – Terry Murray, on the game.
Trackbacks