Game 18: Kings hit a new low in Buffalo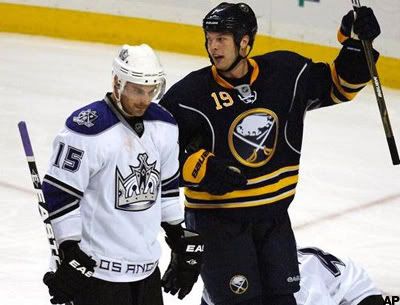 Game 18: Sabres 4, Kings 2
From a six-game winning streak to a three-game losing streak? Man, how the tides have changed for Los Angeles.
Los Angeles is falling from its lofty perch this week, with losses to the Sharks, Blue Jackets and now the Sabres.
Their stats are taking hits as well: they no longer hold the best penalty kill. After allowing two goals to Thomas Vanek and Tim Connolly, the Kings slipped from first to fourth.
Not only that, but the Sabres special teams were so bad before this game (26th on the PP, 24th on the PK), that it stings that much more that the Kings couldn't crack Ryan Miller once with the man advantage.
The Kings did score first, when Dustin Brown slapped one from way downtown. Scoring first had boded well for them thus far in the season. Not only that, but they carried the lead into the second period, despite missing four chances to add to their lead on the PP. When leading after one period, the Kings were 4-0-0.
The Kings actually outplayed the Sabres through the first two periods. But it seemed once the third period rolled around, they had nothing left. Turns out the Kings have been lacking in that arena as well. During their hot start, the Kings had 18 goals to their opponents eight goals in the last period. But during this three-game losing streak, they have been outscored 8-2.
Even though the Kings have outshot their opponents during this dip, they aren't dangerous shots. Plus, they aren't grinding to fight for the pucks. They seem to be muscled easily off the puck and out of the crease. The Kings need to regain their edge before this turns into a full-blown downward spiral.
The Kings played better than they have in either of their previous games, however. Anze Kopitar is enjoying a nice six-game scoring streak (3G, 7A). Justin Williams' 11-game scoring streak did end, however.
Just a frustrating game, and one that the team should put behind them, since they are traveling to Boston on Saturday for a game less than 24 hours later.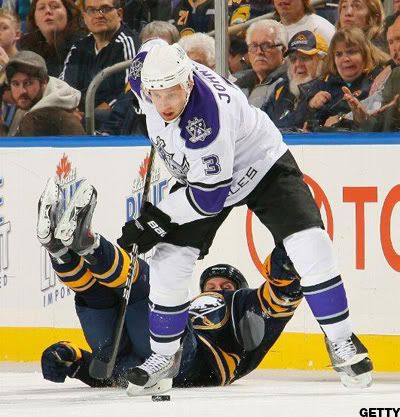 • AP:
Connolly nets winner for Sabres against Kings
The Pacific Division-leading Kings (12-6) are in the midst of their worst slump of the season. After winning six straight, they've lost three in a row and have been outscored 8-2 in the third period of those three defeats.

• L.A. Times:
Kings are on wrong kind of streak, lose to Sabres, 4-2
The Kings were disgusted rather than demoralized after a 4-2 loss to the Buffalo Sabres Friday at HSBC Arena, recognizing their faults were too numerous to expect to win here for the first time in four games since 2003.

• LAKings.com:
Bowing in Buffalo as Kings lose to Sabres
Poor, aggressive penalties put the Kings shorthanded a few times, and their inability to clear the front of the net while killing penalties cost them twice, as the Buffalo Sabres scored two power-play goals and beat the Kings 4-2 on Friday night at HSBC Arena.

• Buffalo News:
Sabres go on a power trip against Kings
The Sabres' power play struck twice in a game for only the second time this season, and it propelled them to victory Friday night. Tim Connolly's power-play goal early in the third period broke a 2-2 tie and moved the Sabres toward a 4-2 victory over Los Angeles in HSBC Arena.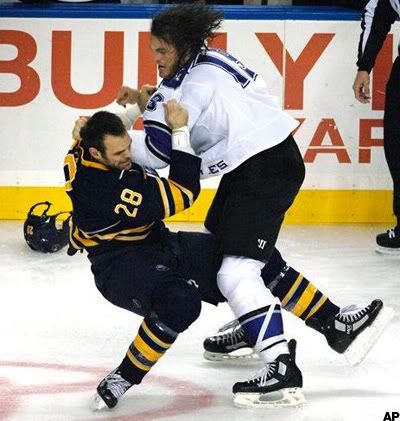 They said it
"I don't know what it is. I wish I knew. It's one of those things where we're just going to have to battle through it. We can't use Willie Mitchell and Poni as an excuse. it's part of the game. Injuries are going to come and we have to battle through it and we have to find a way. That's just the bottom line." – Anze Kopitar, on the defense struggling without Willie Mitchell.

"There's no panic. We're one of the best teams in the league. We just need to right it right away and get our confidence back and get back to playing good defensive hockey because we've allowed way too many goals lately." – Justin Williams, on whether panic is starting to settle in.

"When they're tipping pucks like that and they score, then you try not to open up and there are rebounds. They did a great job on the power play." – Jonathan Bernier, on the traffic he faced on the power play.

"The focus is there. The work is there. At the end of the day, though, we put ourselves in too tough of a spot by taking three penalties, and we weren't able to kill them." – Terry Murray, on trying to bounce back from a three-game losing streak.
• For the Hockeywood Dailies from this game,
click here
.
Trackbacks