Kings succumb to Canucks' speed, drop Game 4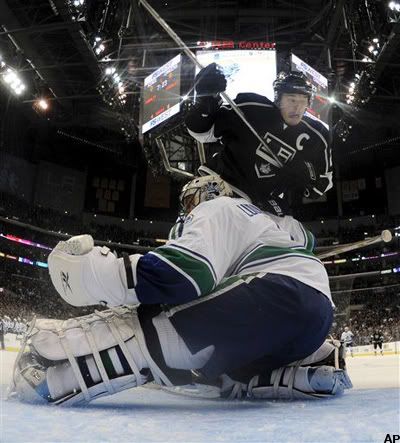 Game 4: Canucks 6, Kings 4
Kings winger Alexander Frolov was skating in on a breakaway pass from Dustin Brown. In net was the Canucks' beleaguered captain, Roberto Luongo. Already touched for two power play goals, the result of this breakaway could very easily determine the outcome of, not only Game 4, by the series. In short, Luongo needed to come up big.
Luongo stopped Frolov's shot, and by doing so helped spark the Canucks in the third period. in the last frame of a humdinger of a hockey game, the Vancouver Canucks stole Game 4 and the home ice advantage that was attached to it, beating a gassed Kings squad that perhaps peaked too early in the contest.
In Games 2 and 3, the Kings were dictating the play, doing all the things that make them a gritty team, grinding and cycling. On Wednesday, they tried to run with the Canucks, and they were outmatched.
The Kings picked up where they left off last game, proving they are hard to beat when they hold onto the puck, grind it out and cycle, cycle, cycle. Their patience paid off when Vancouver was whistled for too many men on the ice. TSN's
Darren Dreger
tweeted: "Too Many Men is an epidemic in round one..." (He just happened to elaborate further in
his column over on the TSN website
.)
Playing with the man-advantage is a situation the Kings have loved to have the last two games. Coming into the game, Los Angeles enjoys having the top-ranked power play unit in the playoffs. On the other side, the Canucks sunk to the bottom in penalty kill.
Brown skates and attempts to slide it past Luongo, who makes the save. But he can't control the puck, and the result is a scrum at the front of the net. Drew Doughty comes all the way in from the blueline, finds the loose puck, and is able to put it
and
Ryan Kesler in the back of the net for the first score of the game. The Kings scores their fourth successive power play goal. Canucks blogger
Andrew Bucholtz
sums up Vancouver's problems easily when he tweeted: "The real reason they're losing. To hell with conspiracies. Vancouver's PK falls to 35.7%"
The Kings get slowed down a bit in the second period when Michal Handzus gets called for tripping Henrik Sedin. Jonathan Quick gets screened by the big butt of Steve Bernier, as Christian Erhoff scored on a slapper from the faceoff circle to tie the game. But then two minutes later, L.A. gets it back.
Frolov drew a hooking penalty from Bieksa to give L.A. the man advantage. And off the faceoff, Brown scored on a quick wrister from Fredrik Modin to put the Kings back on top, 2-1. And the Louuuuuuu chants start from Staples Center. Puck Daddy editor
Greg Wyshynski
made a humorous observation (and maybe not so funny for Vancouver) when he tweeted: "It's still mathematically possible for the Kings to have a PP conversion rate higher than Luongo's save percentage."
It's L.A.'s sixth power play in a row, and their ninth for the series. And just in case you were wondering, the most power play goals in one series is 15, achieved most recently by the Minnesota North Stars in 1991 against the Chicago Blackhawks. Six PP goals in two games? We'll see.
Kings defenseman Randy Jones gets called for holding, in his return from a two-game banishment to the press box. (The Hammer has more about
why he was benched here
.) Fortunately for Jones, the Kings were able to kill off the penalty.
Three minutes later, Jannik Hansen gets charged with high-sticking Jack Johnson, and L.A.'s deadly power play goes back to work. But then, the unthinkable happened: Vancouver kills off their first PK in 6 tries. Vancouver is able to capitalize on the momentum of killing off a penalty. After a bad turnover by Kings defenseman Sean O'Donnell, Pavol Demitra registers his first goal of the series when he wrists it past Quick.
Then things start to get chippy. Offsetting penalties by Dustin Brown and Alexander Burrows puts the action to 4-on-4. O'Donnell's shot from the point goes way wide, but find it's way to Wayne Simmonds. Simmonds is able to dig the puck out, and quickly passes it to a charging Anze Kopitar, who redirects it past Luongo to give L.A. their third lead of the game. And Staples explodes.
The Press-Enterprise's
Jim Alexander
gave more food for thought amongst conspiracies, when he tweeted: "Also thought that Van penalty late second period on Hansen was suspect. Looked like JJ stepped into him and I'm not sure stick even hit JJ." Just what those tin-foil wearing 'Nuck fans needed.
In the third period, Daniel Sedin gets a call for tripping Rob Scuderi, and L.A. gets to take another whack at getting their 10th PP goal of the series. But the Canucks are able to kill it off again. Examiner.com's
Jon Moncrief
tweeted: "Canucks one second away from second straight penalty kill. Somewhere conspiracy theorists are hard at work on another theory."
The Canucks have all the momentum and were buzzing in the third. But the opportunistic Kings are always lurking, waiting to take advantage of a Vancouver mistake. And they get that break when Brown spots Frolov for a breakaway goal. despite a sprawling Shane O'Brien, Frolov skates in on Luongo, as Staples Center rose to their feet. But Bobby Lu comes up huge, and makes a game-altering save. It was a save he absolutely needed to make at that time, and it buoyed the Canucks.
TSN's Bob McKenzie nailed it
when he tweeted: "If Canucks come back to win this game and series, that Luongo breakaway save on Frolov will be TSN turning point. If not...never mind. :)" Way to waffle there, Bob. But the stop plays instant dividends for the Canucks and their confidence level.
They are able to tie the game once again when Mikael Samuelsson scored his fifth goal of the series, prompting Puck Daddy editor
Sean Leahy
  to tweet: "Since Mikael Samuelsson told the Swedish hockey program to F themselves in late Dec, he's scored 25 of his now 35 total goals this year."
Things completely start to unravel for the Kings when they get called for too many men, for the 14th time overall in these playoffs. The Canucks continued to be on the offensive, pushing L.A. back on their heel. And for the first time in this series, it's the Kings that looked gassed in the third. Sami Salo scores on a Henrik Sedin pass to give Vancouver their first lead of the game.
The Kings got it right back when Wayne Simmonds scored on a sly pass by Ryan Smyth, off a Jack Johnson blast from the point. Simmonds shows the ability to get inside the defender, and knots this game up on his sprawling score.
But it was all Vancouver after that. A 4-on-2 off of a Smyth turnover finds the Art Ross winner Henrik Sedin to lead the charge, aggressively skating toward Quick, and pops it in to break the tie with three minutes to go. The Kings pull Quick to the bench, but can't get anything to go their way. And Ryan Kesler seals the deal for Stick in a Box.
The loss guarantees a Game Six at Staples on Sunday, and a half hour after the skaters leave the ice, all the tickets are gone. Looks like I'm gonna have to try really really hard to get tickets. But I'm going. Oh yes, I'm going. And if I can get decent seats, I'll paint the face. Sure, I'll look like of off those dudes from the Insane Clown Posse, with my playoff head fully sprouted, but a guy has to do what a guy has to do.
• AP:
Sedin leads Canucks past Kings, series tied at 2
"This is part of the process you've got to go through as a young group of guys and face adversity," Kings coach Terry Murray said. "Again, I feel we've handled those situations pretty well over the course of the year. We've shown to be resilient and ready and bounce back. It's going to be a big test back in Vancouver."

• LA Times:
Kings see double as Canucks tie series with 6-4 win
The Kings extended their power-play streak to six in building a 2-1 lead early in the second period and even after the Canucks built a 4-3 lead the Kings made it 4-4 at 13:18 on Simmonds' lunging rebound. But they soon lost their composure and the game.

• LA Times:
How Kings's Die-Hards live hockey
At Staples on Wednesday, there were more bad noses than a Scorsese movie, and I'm not just talking about the players. You should see the louts up here in the Die-Hard section. War whoops. "Puckhead" hats. Crowns. And beer breath that would kill a goat.

• LAKings.com:
Canucks beat Kings 6-4
Given open ice, for an extended period, for perhaps the first time in this series, the Sedins factored in three third-period goals as the Canucks rallied from three different deficits to beat the Kings 6-4 before a standing-room-only crowd of 18,322 at STAPLES Center.

• PE.com:
Kings watch one get away
 But playing wide-open hockey against the Canucks isn't the way to go, especially when the Sedins are on the ice. And there was plenty of open ice on the go-ahead goal, scored by Henrik off a nice move. 

• NHL.com:  
Canucks rally for series-tying win over Kings
"I give Vancouver credit. Their best player stepped up at a critical time, made a big play," Kings coach Terry Murray said. "When you have a lead going into the third period, you got to be able to nail that thing down."

• NHL.com:
Kings In Unfamiliar Territory
The Kings must now prove that they have short memories and put Wednesday's costly third period behind them. If the team wishes to return to STAPLES Center with a lead in the series, they must show that a young team can bounce back. 

They said it
"They do not need a lot of room. Time and space, they take full advantage of that. You have to make sure you are above their third guy, and above the pocket. In this case (on the winning goal), we got caught. … We have geared ourselves up for a long series. We know it was not going to be easy. They are a fighting team, and so are we. We are geared up. We are ready for it." – Ryan Smyth, on the game.
"We made some mistakes, and they're good players over there. They have a good team, and they're going to capitalize when we make mistakes. We haven't made too many, in regards to too many men or bad changes. They haven't really had many chances in the first three games, but we gave them two tonight and they scored on both. You can't give good players great opportunities." – Dustin Brown, on how the game got away from the Kings.

"Good spot. Great effort. I loved our start. The first period was exactly what we needed; go after it. This is part of the process. You've got to go through it as a young group of guys, and you're going to face adversity. Again, I feel we have handled those situations pretty well over the course of the year. We've shown to be resilient and gritty and bounce back. It's going to be a big test back in Vancouver." – Terry Murray , on where the Kings are in the series right now.

Related Game 4 links

•
Around the Kingdom: Game Four blogs
Around the Kingdom: Game Four blogs
•
From Across the Aisle; the Vancouver viewpoint
From Across the Aisle; the Vancouver viewpoint
•
Peeping the Dailies: Game Four videos
Peeping the Dailies: Game Four videos
•
Hockeywood Insider Playoff Special: Game 4
Hockeywood Insider Playoff Special: Game 4
Trackbacks