From Across the Aisle; the Vancouver viewpoint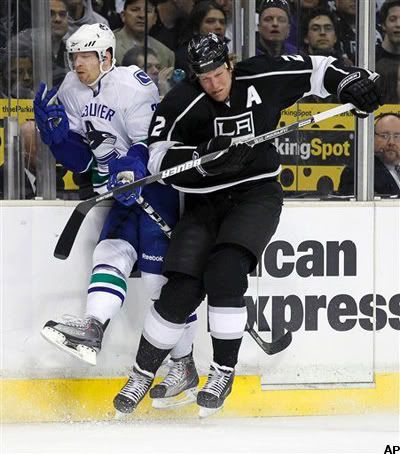 • Vancouver Sun:
Canucks rally to beat Kings 6-4 as Sedins provide twin killing
One day after Canucks coach Alain Vigneault called on his top players to be better and said "will" determines winning and losing, Vancouver showed plenty of heart. And a strong stomach, surviving the wild swings of Game 4 to get a victory it desperately needed.

• Vancouver Sun:
Sedins provide Canucks with a Hollywood ending
"Once in a while you need to see something else," Samuelsson said. "It's maybe good for me and the twins and also Burr to play with other players. If it doesn't work the way we want it to, do one small move and we can do that because everyone is comfortable with each other."

• Vancouver Sun:
Canucks-Kings, Game 4: Game within a game
PIVOTAL POINT:  Kind of an easy one. Daniel and Henrik on a rush chance with Henrik carrying the mail deep, faking King defenceman Matt Greene to his knees and scoring the game winner with 2:52 remaining in the third period.

• NuckWorld:
Demitra, my hero
Now I've seen everything. The Canucks killed two penalties and Pavol Demitra worked his ass off. That's the kind of night it was for the Canucks, who made plenty of mistakes again defensively -- and still allowed two more goals to the Kings' power play -- but made up for it in heart and grit. 

• The Province:
Hockey Gods smile on Canucks in series-tying win over LA Kings
In a game where they fought and scratched and scrambled for everything they could get, the Canucks rose from the crypt to even their Western Conference series against the L.A. Kings with an improbable, impassioned – and very imperfect – 6-4 win. 

• The Province:
Canucks%sq243% big men rise to topple Kings 6-4
"I said it from Day 1, that this is a different team," said Henrik. "We stuck with it and that's the biggest thing. Personally with our line, if this would have been a couple of years ago, we would have been cheating and made plays we shouldn't have made and the game would have been out of hand after 40 minutes. You have to stick with it. We did."

• The Province:
Luongo digs deep in third to help seal crucial game for Canucks
Yes, he got beat four times in a wild, at-times reckless game, and that's usually enough sod for his critics to have a field day on. Luongo couldn't glove a loose puck early which led to Drew Doughty's goal, the first of the game. 

• NucksMisconduct:
Canucks/Kings Game IV Recap
Vancouver still has a truck load to improve on before the best of three starts. Chief of which remains their PK which is still setting the post season mark for abysmally laughable; it was great to break the streak in the second, but Rick Bowness needs to come up with another strategy. 43.8% on the kill, of rather 9 PP goals against in four games (the Kings record, dating back to the Gretzky days I believe, is 11) is beyond the definition of unacceptable.

• NucksMisconduct:
A Bit of Squid - April 22nd
Although it started a little rougher in the 1st period with a couple failed penalty kills, the 2nd period was a huge improvement with some successful penalty kills and a couple goals.  The 3rd period was even stronger, and incredibly fun.

Related Game 4 links
•
Kings succumb to Canucks's speed, drop Game 4
•
Around the Kingdom: Game Four blogs
Trackbacks