Kings dominate Game 3 with the power of 'Zus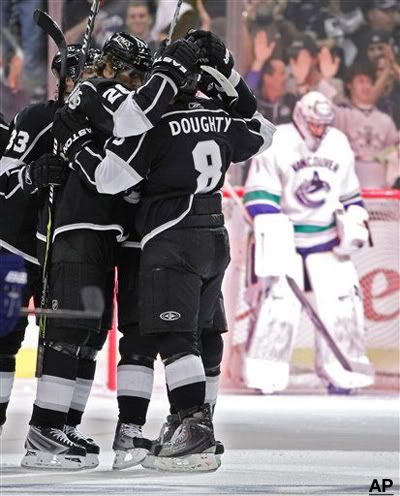 Game 3: Kings 5, Canucks 3
Imagine the viewpoint from the player's standpoint for a moment. You can
feel
the roar, before you even push your way through the double castle doors. You skate out to
AC/DC's Back in Black
to a raucous arena filled with fans wearing all black and waving white towels, bellowing with the pent-up intensity of six failed seasons.
Staples is not normally known to be particularly loud from a fan standpoint. But this is the Stanley Cup playoffs, and everyone loves a winner in this town. The Kings start Game Three with overwhelming pride, enthusiasm and momentum, before the puck even drops.
But all that enthusiasm is sucked out of the building in two minutes, when Vancouver's Mason Raymond draws first blood. Peter Harrold fell down by the board, which allowed the dangerous Canucks an out-numbered attack on Quick, and they capitalized. Ryan Kesler fed the puck across the crease to Raymond, who shot it in for his first playoff goal.
But as they seemingly have done all series, the Kings battle back, and Brad Richardson draws a slashing penalty on Christian Ehrhoff to give L.A. a power play opportunity. And it's Drew Doughty who takes advantage of the opportunity, when he snaps a low writer near the blue line past Luongo to tie the game, as Staples Center explodes. Doughty's PP goal is L.A.'s fifth out of ten chances with the man advantage this series.
To say the fans are excited is an understatement. When P.A. announcer David Courtney simply said the words "Kings goal...," he got a huge pop from the crowd.
John Shannon
from sportsnet.ca makes a valid observation when he tweeted:"goalies will have trouble seeing the puck above the glass, with all thefans wearing black at Staples." The L.A. fans certainly heeded the call by the club to wear all black to the game. My heart skipped a beat when Iactually saw some face-painting going on. Tremendous.
The first period finds both clubs tied with 22 hits a piece. Vancouver is not known as a hitting team, as they were only
27th in the league
. It's an interesting strategy, to try and out-grit the Kings.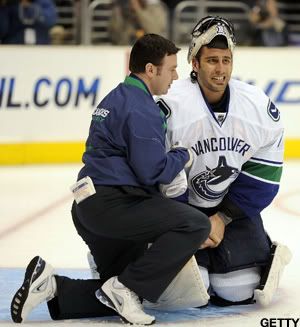 The Kings get an early power play in the second period, when Fredrik Modin draws a holding penalty. Another wrister, this time by Jack Johnson, once again finds its way to Luongo. Only this time, Bobby Lu stops it, but can't control the rebound. The puck finds its way to the stick of Michal Handzus to lift the Kings 2-1.
Vancouver gets a scare, when Luongo comes up off the ice injured after Johnson's goal. As Ryan Smyth was jumping up to screen the shot from the goaltender, he landed square on Luongo's wrist. The trainer comes out, and you can tell his wrist is killing him, but he stays on the ice.
When Mason Raymond gets yanked for holding Anze Kopitar, the NHL's hottest PP team takes to the ice. And Handzus scores his second power play goal of the game to make it 3-1. Handzus is making up for his Game One gaffe, when he was caught celebrating rather than scrapping on Luongo's improbable game-savingswat in overtime. He has the Kings firmly in the driver's seat.
Then a minute later, Brad Richardson strips the puck from defenseman Aaron Rome and scores the Kings' second even-strength goal of the series to make it 4-1. That was enough for Vancouver coach Alain Vigneault, who yanks Luongo in favor of Andrew Raycroft.
It's not surprising that Bobby Lu has struggled. Examiner.com's
Jon Moncrief tweets
:
"12 goals allowed by Luongo in his last 105 minutesat Staples Center for a GAA of 6.86
." HockeyBuzz's
Kat Kealy
adds: "#Canucks are pulling Luongo after the #LAKings' first even strength goal... Probably should have pulled him the last time he was at Staples."
The Canucks halve the score, when Mikael Samuelsson flips the puck past Quick to score his fourth of the series. Turns out Samuelsson has been the only Canuck to realize it's the postseason, the rest of his team has only combined for three goals.
The Canucks gets a goal recalled when Daniel Sedin's skate re-directs an Alexander Burrows pass under Quick. It took 6 minutes for the review booth to decide upon, and Staples Center was on edge. When the ref made the call, the assembled throngs breathed a huge sigh of relief.
But, as Canucks blogger
Andrew Bucholtz tweeted
: "Gentlemen, start your conspiracy theories..." Former goaltender and current TSN analyst
Darren Pang
added: "
I have a really difficult time thinking that Sedincould parlay that into a "distinct kick motion" with OD all over him onthe play.
" TSN's
Bob McKenzie
tweeted: "My personal opinion is the Vancouver no goal should have been a goal, but I knew right away it was going to be disallowed."
But that relief was short-lived, when Daniel Sedin struck again, deflecting the puck past Quick to regain that third goal. Vancouver has grabbed control of this game, as the Kings start to struggle. Handzus gets called for goalie interference to put L.A. down a man and with no momentum.
The Kings get a boost when they kill off the Handzus penalty, but can't seem the clear the puck out of the zone. They finally get it out, thanks to Kopitar and Wayne Simmonds. And after an exchange at center ice, Ryan Smyth scores a crazy-looking goal, on a slap shot from waaaaaaaaaaay downtown that looked like a Tom Candiotti knuckleball.
It started off looking like it was going to fly over the goal, but dipped suddenly over Raycroft's glove to give L.A. another two-goal buffer. PuckDaddy's
Sean Leahy tweeted
: "Ryan Smyth & Tomas Holmstrom have now scored the longest goals of their career in the same week."
Game was winding down when something I never thought I'd see again happened. It wouldn't be an L.A. playoff game if Dancing Boy didn't show up,
Thankfully, he did
. (Stick tap to
the Mayor of 119
for the heads up).
Vigneault pulled the goalie with two minutes left in the period, but the damage had been done. As the clock wound down , Staples was just getting started. The streamers fell from the rafters and Staples was rocking. This is LA playoff hockey, and it sounds like The Briggs.
The three stars of the game: Handzus with 2 goals and an assist got the third star: Drew Doughty with 1 goal and three assists was star No. 2, and Jack Johnson with 3 assists was named the No. 1 star of the game. Call me kooky, but I think that order was reversed by accident. Either way, the Kings have a full head of steam heading into their Game 4 matchup back at Staples.
• AP:
Kings charge past Canucks for 2-1 series lead
The Canucks' star goalie and Canadian Olympic hero gave up eight goals in an embarrassing loss to the Kings just 18 days ago, and he stopped just 12 of 16 shots before getting pulled late in the second period of Game 3 in front of a raucous Hollywood crowd watching its first playoff game since April 27, 2002.

• LA Times:
Kings enjoy the view from advantage point
The last time the Kings won a playoff game at Staples Center, on April 27, 2002, Drew Doughty was 12 years old. Now he's playing with the big boys and shining.

• LA Kings:
Kings announce the presense with authority
When the Kings came off the proverbial ropes, though, it was something to see. The Kings scored four consecutive goals, including three on the power play, and beat the Canucks 5-3 before a standing-room-only crowd of 18,264 at STAPLES Center.

• NHL.com:
Power play leads Kings past Canucks
And just when you thought the Kings' power play couldn't get any better, it delivered a perfect 3-for-3 performance and is now 7-for-12 in the series. Twenty-year-old defenseman Drew Doughty had a goal and three assists and said afterward that this team might not have known what to expect in its first playoff series, but the players now feel they are ready to drop the hammer on Vancouver.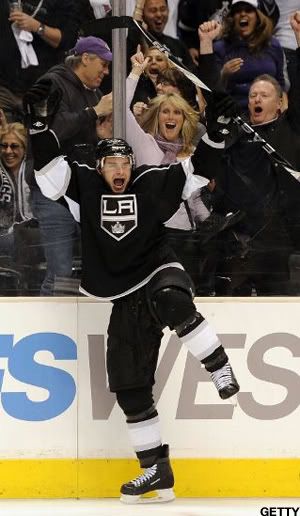 They said it
"It is the playoffs, so you play with a lot of inspiration. We do not want to get scored on. It was not perfect, but we will take a win. That is the most important thing. We got a win and we just have to keep going." – Michal Handzus, on the game.

"Well, my first NHL goal was from the blue line, so I think I'll remember that one forever. But that was a little ways out, and obviously it was toward the end of a shift. I just wanted to get it on net. I think it went off his skate and then just a seeing-eye shot, like their goal too." – Ryan Smyth , on his long-range goal in the third period.

"Maybe. Those fans were going crazy before the game, and there was maybe a little bit of nervousness and a little bit of pressure got to us, but we came through and we were a lot better after those first couple minutes. After that, I thought that we were the best of the team for the rest of the game." – Drew Doughty, on whether there were some nerves at the start of the game.

"It really simplifies everything. They control the puck really well. We've been shooting the puck and getting some bounces, and that's how we're getting some goals." – Anze Kopitar , on Doughty and Johnson's play on the power play.

"There's no secret to it at all. We're just taking what's given. Drew and I, especially at the top, we need to try to be able to create things for the forwards. If we had a chance to shoot, we did. If one of us couldn't shoot, just keep moving it around, and we just kept moving. One thing we didn't want to do was stand still." – Jack Johnson, on the secret to the power-play success.

"Well they [the Canucks] came out very good. That was a great start by the Vancouver Canucks. They had lots of energy, they were heavy, they were hard, physical, and they end up scoring the first goal. I thought the building was very good. You know, I've been hearing for the past couple years about the atmosphere that's going to be there whenever the team gets to the playoffs, and it was that plus. It was tremendous. Fans were a big, big part of the game here for us tonight." – Terry Murray , on the playoff atmosphere

Related links
•
Around the Kingdom: Game Three Kings blogs
•
From Across the Aisle, the Vancouver viewpoint
•
Peeping the dailies
•
Game Three review podcast
Trackbacks