Kings drubbed by Budnyk, Oilers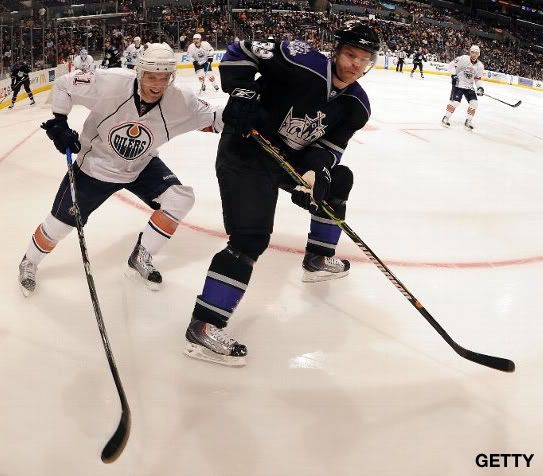 Game 81: Oilers 4, Kings 3 (shootout)
One game remains, and the Kings' playoff opponent still remains unclear. They could finish as high as fifth, or stay at seventh. There is one thing that is crystal clear: the Kings are struggling right now. Struggling to find an answer of which team is going to show up to play for Los Angeles.
Coming into the game against the hapless Oilers, it looked as if Jonathan Quick would finally get that monkey off his back and notch that elusive 40th win that he's been chasing for weeks now. The entire game, the Kings were in control, firing shot after shot against rookie goaltender Devin Budnyk.
But 14 shots in the first, followed by 25 (!) in the second period, and the Kings couldn't rattle the 6-foot-6 netminder. Not only that, but the Oilers scored twice on only 13 shots on Quick. The second goal went off Ryan Smyth's skate, which was deflating. Because tghere's nothing you can do about a redirected puck. You can sense the frustration building on the team. To add insult to injury, the Oilers scored on a short-hander in the third period.
Part of the problem was the Kings were taking outside shots, allowing Dubnyk to easily track the puck. There was hardly any traffic in front of him, so even though he was getting peppered, he was also having an easy time of it. But just through sheer numbers, the Kings finally got on the board, and things started to click. Edmonton's Aaron Johnson was called for holding, and the Kings tallied their first goal of the game, when Dustin Brown scored to put the Kings on the board.
Six moniutes later, Jarret Stoll scored on a beautiful Dustin Brown pass to bring the Kings within one. But time was running out on L.A.'s chance to tie the game. Fortunately, Michal Handzus' veteran experience allowed the 33-year-old winger to tie the game. And for the first time since 2003-04, the wily Slovakian has 20 goals.
So, for the fourth game in a row, the Kings went to the shootout. And to reward Handzus, coach Terry Murray decided to go with him over Anze Kopitar. Fortunately, Handzus scored, but Jack Johnson and Ryan Smyth failed to. And the Kings fell to the Oilers, further stirring the seeds of discontent among fans.
Some fans are insistent that
Lombardi call up Jonathan Bernier
for the rest of the playoffs. Others
preach patience
, and allow Quick to work though it. One would think the Kingdom would be coming together as the Kings enter the playoffs. But the end of this season feels more fragmented than ever. Logic dictates an early departure for this untested young team, but there's that nagging feeling in the guts that says with no risk comes no rewards.
There's nothing wrong with allowing the proper evolution of a young team, but there's also nothing wrong with taking a chance and trying to live up to the moniker of a dark horse. And the only way you can do that is by making a bold decision. I've waffled with this for the past month. I've said just making the playoffs is the benchmark for the team this season, and they can build off of the experience next season.
But another part of me wants the Kings to stick it to everyone and play up to the potential we know is there. The Kings may have surprised many teams this season, but the Kings won't be sneaking up on anyone next season. We need a defining moment to build around. What's it going to be?
• AP:
NHL-worst Oilers stun Kings for 3rd straight win
While Jonathan Quick gave up three goals on Edmonton's first 14 shots, the Los Angeles Kings couldn't score until their 46th shot on Oilers rookie Devan Dubnyk. After Quick's teammates rallied to force a shootout, their goalie couldn't make another save.

• LA Times:
Kings suffer another disappointment with 4-3 shootout loss to Oilers
Quick, who hasn't won since March 22 and on Saturday set a club record with his 72nd appearance, gave up three goals on 16 shots before his teammates followed a well-worn script and rallied to pull even in the third period at Staples Center.

• LA Kings:
No Miracle this time
So important is building momentum that coach Terry Murray said, after Saturday's game, that he is considering starting Jonathan Quick in goal, in a back-to-back situation, after Quick set a franchise record with his 72nd appearance of the season on Saturday.

They said it
"It doesn't bother you. There's no reason it should. As a team, and me personally, we've won plenty of games and we're going to win more, so it doesn't effect you at all." - Jonathan Quick, on whether his personal winless streak impacts his confidence.

"We're still undisciplined and we're still losing some checks, but the main thing that I see is the penalties. Come the playoffs, you can't be taking five, six, seven penalties a game. It's got to be three, or maybe four at the most. That's one thing we need to work on a little bit. Other than that, we had some shots. We maybe didn't get the traffic we wanted, or the killer instinct on the power play, but it's hard to poke too many holes on a shot total like that. We still need to find a way to get points." - Sean O'Donnell, on whether the recent play is a concern.

"I thought we needed a different look. I liked what Zeus did, obviously. He goes in and scores right away. I thought Jack would score. He had a great look. The goaltender, I think he hit it with his stick. So it just needed a change. We didn't have such great success recently with it." - Terry Murray, on why Kopitar didn't participate in the shootout.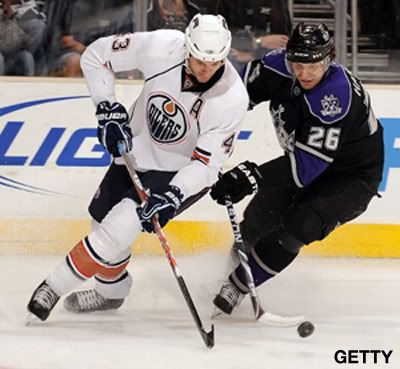 Around the Kingdom
• The Royal Half:
The Fail on Fan Day
Now is not the time to panic as Kings fans. Because today was the first time in 8 years that when saying goodbye to my fellow Season Ticket Holders at the last home game of the season... I could say "see ya next week." And that felt better than any sort of comeback victory could have tonight. Okay, well maybe 2 points would have felt better... but would this anecdote be as touching? I think not.

• LA Kings News:
Everything is fine
In overtime, I found myself looking around wondering why I wasn't seeing Kopitar out there. I do think he he may have had one shift, but apparently Murray's brain had an adjustment and he thought the best way to win this thing is to keep our top scorer on the bench.

• ESPN LosAngeles' Tom Murray:
Just one of those games
Murray was asked about the importance of Quick just getting a win under his belt before the playoffs start? "That does mean something," Murray replied, "and that's something I need to think about. But the 40 number to me, it doesn't have meaning to me and I hope to him, but it is important that we get a win going in the right way."

• HockeyBuzz's Matthew Barry:
Kings Erase 3-0 Deficit But Lose in Shootout 4-3
Saying "Jonathan Quick needs to play through this" is old school and it doesn't work in the new NHL. He's not playing very well, period. I'm not saying Ersberg is the answer but I'd rather ride someone who COULD get hot rather than someone "trying to find his game."

From across the aisle, the Edmonton viewpoint
• Edmonton Journal:
Edmonton Oilers beat Los Angeles Kings 4-3 in shootout
It was (Dubnyk's) first NHL road win and the first road win for the Oilers since Feb. 11, which, coincidentally, was also recorded in the City of Angels.

• Edmonton Sun:
Dubnyk denies Kings
Had it not been for Dubnyk, this would have been the Folly on Figueroa, as the Kings peppered the Oilers goaltender pretty much from the onset.

• The Copper and Blue:
A True Loser Point
So Devan Dubnyk faced a total of fifty-five shots from a team that, lest we forget, is a fairly marginal playoff club more known for defensive fortitude.

Peeping the dailies
Trackbacks