Sunday is Burger King Jersey Appreciation Day!
An idea so absolutely ridiculous and inane has surfaced over at
LetsGoKings
that, at first glance, might make you throw up in your mouth a little bit. But since I drum to a beat of ridiculousness and inanity, I am drawn to it.
In addition to being officially Anze Kopitar Bobblehead Giveaway Day when the Kings take on the Nashville Predators on Sunday, it is also unofficially
Burger King jersey Appreciation Day
.
'What's a Burger King jersey,' you may ask. Only the league's first concerted foray into a new stream of revenue called "third jerseys."
The year was 1995, and until that point teams were authorized to wear home and away jerseys. But there had been teams which had used third jerseys between 1955 to 1993, but they were usually throwback jerseys.
That season, five teams actually designed an alternate jersey with a different feel that their official jerseys. The Ducks, Bruins, Penguins and Canucks all joined the Kings in creating a completely new look for the team to wear at select times through the season. Some weren't so bad, like the
Bruins
and the
Pens
. The
Canucks
' third jersey was meh, but lightyears ahead of their
Yellow V jerseys
. Then there was the Ducks
third jersey
, absolutely fitting for a team run by Disney.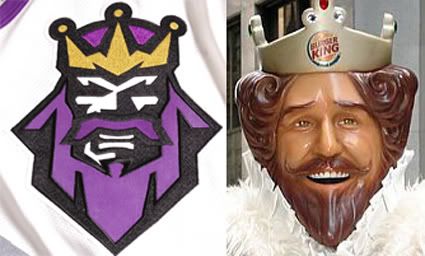 The Kings jersey was not well-received by fans and broadcasters alike, and the team only wore them several times. What was wrong with them? Wear to start? Hockey jerseys are generally all about straight stripes and bars. The 1995 jersey had a weird sash stripe going across the front and mirrors on the back.
In a nod to their past, the jersey uses purple and gold trim on the names and numbers on the back. And not just any gold trim,
metallic
gold trim, making the Kings the only team in professional sports to have used two different metallic fabrics on their jerseys.
However, when added with choice of using a skinny serifed font for the name, it left them virtually unreadable to broadcasters and viewers alike, especially when the name stretched into the gray sash on the right. It was a decision that would have even been questioned today in the world of hi-definition TVs.
As for the logo, it looked very much like the creepy mascot from Burger King, hence the name of the jersey. Add to that the placement. Most jerseys have the logo front and center. The Kings head was on the left chest, which both earns points for originality and loses points for just looking odd.
Personally, I like the logo standalone, and I know I'm not alone. Fellow blogger Chris Kontos has used the logo for his blog
The Royal Half
for years. I bought a Kings head crest on eBay a few years ago, with the intention of putting it on a letterman-style jacket or a purple practice jersey.
The funny thing, as u-g-l-y as the jersey is, it is most coveted by collectors. On eBay, they can
fetch asking prices
of $600+, leaving some scratching their heads.
Which may be what happens to fans today at Staples Center. A loosely-organized effort has been made to wear the jerseys, if for no other reasons than to torture Bob Miller. But since he's been
sidelined with shingles
, now it's just become fans excited about wearing these rare jerseys.
Just more proof that things are different this season, that fans are actually willing to wear one of the ugliest jerseys ever, in public, and brag about it. And if I had one, I'd be right there with them.
Here's some actually game footage of the Kings wearing the jerseys. You can see how it would be hard to tell who was whom at first glance, with the numbers so hard to read.
Trackbacks