Kings ride the Stollercoaster of Love, beat Bruins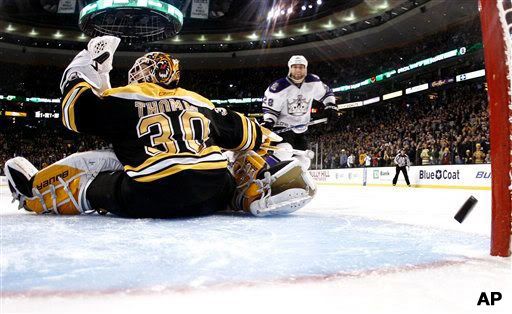 Game 54: Kings 3, Bruins 2 (shootout)
Boston is the next stop on the Grammy Evacuation Tour for the Los Angeles Kings. Winners of four in a row and five on the road, L.A. is hitting on all cylinders. The Boston Bruins? Not so much. Losers of six in a row has taken a lot out of the sails for Boston. In Fact, it was the Kings who sent them on this downward spiral, when
they beat them in a shootout
in Los Angeles. Turns out, history can repeat itself.
Dustin Brown struck first for Los Angeles, which bodes well for the Kings, who win at a 78 percent clip when they light the lamp first. And guess what, it was power play goal. Amazing. The Kings would've gone up 2-0, if Wayne Simmonds goal wasn't waived off early in the second. His stick appeared to be a bit high, and upon further review, there wasn't enough evidence to prove it wasn't below the crossbar to overturn the original ruling.
The Kings looked out of sync all game, especially Drew Doughty. Double D was making some bad decisions on the ice, which could've cost the Kings. Thank God Jonny Quick brought his A-Game to thwart the B's Game. (Heh.)
Anze Kopitar, the Slovenian Stunner, was stunned by Stuart on a clean hit, which resulted in a fight between Stuart and Wayne Simmonds. Kopitar had his head down and Stuart laid into him squarely. And even though Kopitar crashed to the ice, the 6-foot-4 center just popped right back up, and was spotted laughing on the bench minutes later.
"He's our best player," said Simmonds. "But regardless of whether he's our best player or not, whenever somebody gets hit like that, you've got to intervene there. You've got to do something."
It's good to see Simmonds stick up for Kopitar, but it cost the Kings a four-minute penalty, plus five for fighting and a ten-minute misconduct. Good thing Bruins netminder Tim Thomas negated some of that long penalty with a high stick on Brad Richardson. Don't make Thomas mad, you won't like him when he's mad. I know
some Bruins fans
aren't too happy with him for that.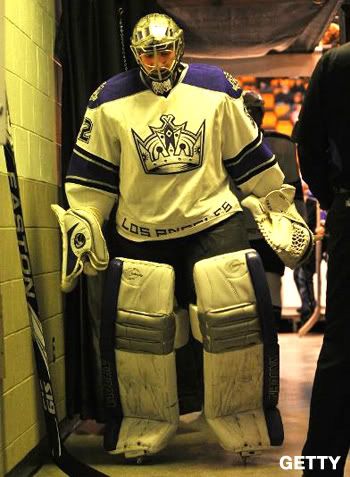 The rest of the second period could've gone horribly awry, if it wasn't for the steady play of Jonny Quick, who weathered yet another Eastern Flurry of action, stopping 12 of 13 shots. This time he only allowed a power play goal by Marco Strum, who avoided a sprawling Drew Doughty to pop one past Quick to tie the game.
The Bruins struck again early in the third period on the power play when Old Man Mark Recchi, who drove past Alexander Frolov and flipped one past Quick to put Boston up 2-1. That goal seemed to wake up the Kings, and for the rest of the third period the Kings put the pressure on. The Kings got a power play, when Brad Richardson drew a hooking call from David Krejci.
Kopitar scored his fourth goal in five games, by throwing the puck through traffic past Tim Thomas to tie the game. That's exactly where the Kings wanted to be. They head into overtime with momentum, after a furious attack near the end of the period.
The 4-on-4 play during the overtime was tremendous, with both teams skating hard. Goaltenders Thomas and Quick kept the other team off the scoreboard with sweet saves, and sent the game into the shootout. Right where the Kings want the Bruins.
And while Anze Kopitar's scored another sick goal and will receive a lot of attention, I thought Ryan Smyth's goal was just as important. Not too sure how Smyth was able to push Thomas into the goal with the puck to score. Maybe he used his superior Jedi Mind powers, because Thomas just slid into the goal comically. More importantly, it put the pressure back on Boston by tying up the shootout.
And it was Jarret Stoll who scored in the sixth round, shooting top shelf where Papa hides the Playboys to lift the Kings to their third straight win in Boston and giving them a five-game winning streak. All in the And just as they did back on Jan. 16, the Kings beat Boston in the shootout, thus adding to Boston's woes, who are winless in seven. Ouch.
The first star of the game went to the Stollercoaster of Love, Jarret Stoll, but in my opinion, the first star for L.A. was definitely Quick, who saved the Kings' asses numerous times and continue his march towards his assault on
Marty Brodeur's record
of 48 wins in a season. Quick only needs 19 more wins in the next 29 games, and it appears
Terry Murray is going with Quick again on Sunday
against Brodeur. How sweet would that be, having Quick beat Brodeur as one of those wins?
Unlikely? Sure. But this season has been all sorts of unlikely.
• AP:
Kings win 5th straight, beating Bruins in SO
"I am not much of a planner," Stoll said. "I knew I was going to shoot, just didn't know where. As I went in something opened up and I tried to fire it where I wanted to and I was lucky enough that it went in."

• LA Times:
Kings get away clean with 3-2 win in Boston
Despite falling behind early in the third period, they earned a 3-2 victory over Boston in a six-round shootout at TD Garden, extending their winning streak to five games and rising to fifth in the West in a game that featured a lot of grit and a dose of larceny.

• LA Kings:
Déjà vu all over again
Did the Kings perhaps steal two points in Boston on Saturday, Anze?
"Uh, yeah. Uh...mayb...yeah. A little bit. It wasn't a full robbery, but it was a little steal,'' Kopitar said after the Kings rallied for a 3-2 shootout win over Boston at the TD Garden.

• NHL.com:
Red-hot Kings top Bruins 3-2 in shootout
Talk about two teams going in opposite directions. The Los Angeles Kings have turned into road warriors, while the Boston Bruins are making history with their inability to win at home.

They said it
"We've seen that all year long, so far. We get down a goal, two goals, and we don't get frustrated. We battle back and find a way to win. We've done that time and time again so far this year. I said, at the beginning of the year, that we have a lot of character in this locker room. It really showed tonight." Jonathon Quick, on being able to rally and win games

"I had it in my head the whole way. Just two weeks ago, or maybe not even two weeks, we got into a shootout with those guys. I was kind of thinking he was going to wait for my backhand. I figured I would change it up a little bit and it worked for me." – Anze Kopitar, on whether he played, or improvised, his shootout goal

To me, it's a group of guys. Everybody is playing for the group, for the team. that's certainly what you have to have. A reliance on one guy or one line, to get on some kind of roll like winning four in a row, it's not going to happen in the game today. The playing field is too level. You have the pieces of the puzzle in place, and guys are feeding off each other. A lot of encouragement going on, and you get some momentum. It's nice to keep it going." – Terry Murray, on the Kings' road success

Around the Kingdom
• The Royal Half:
The Boston Claw
Special teams win games in the New NHL. And Elite NHL teams... win with special teams. So when you see the Los Angeles Kings score 2 goals in a game on the Power Play (and not even have Ilya Kovalchuk on their team yet!)... it's a great thing.

• The Throne Room:
Quick Nets 30th Win as Kings Stay Perfect on Road Trip
Couple things that stand out to me: Kopitar has 16 points in his last 13 games, many of those without Ryan Smyth on his line. Interesting fact for those pundits whop think Kopi's success early in the season was owed to having Captain Canada on his line. Brad Richardson and Wayne Simmonds are proving to be quite complimentary as linemates for Kopitar.

• Jewels From The Crown:
Specialty Teams Galore; Kings 3, Bruins 2 (SO)
Jonathan Quick is still solid. He bailed out the Kings numerous times, as per usual, and brought the Kings two points richer in the standings.

• HockeyBuzz's Matthew Barry:
Déjà vu as Kings Top Boston in Shootout 3-2
The win was the Kings 6th straight win on the road. Something they hadn't accomplished since the 1974-75 season!

• LAKingsNews.com:
Kings burn through Bean Town
Smyth did not only score on the goaltender, but scored with the goaltender, scaring Thomas fully into his net, along with the puck.

From across the aisle, the Boston viewpoint
• Boston Globe:
Bruins falter again
"Kopitar shot it to the far side of the body,'' said Thomas. "I had to switch from one side of the body to the other. In the meantime, I lost it and it hit off my stick. I think, possibly, it might have been going wide if it didn't hit off the butt end of my stick.''

• Stanley Cup of Chowder:
Bruins lose 7th straight, fall 3-2 to Kings in SO
It was not a good night to be an on-ice official. If you were wearing stripes, it was best to stay away from Drew Doughty. Linesman Johnny Murray was hit in the back by Drew Doughty's clearing attempt and referee Eric Furlatt wrenched his knee after getting tangled up with Drew Doughty along the boards.

• Big Bad Blog:
Kings drop Bruins in shootout
Stoll turned TD Garden from a rocking venue to a silent arena in a matter of moments when he beat Thomas over the goaltender's shoulder in the sixth round of the shootout. The Kings ended up winning the series 3-2 for the two points. Stoll's goal followed up scores from the Bruins' Marc Savard and Michael Ryder and the Kings' Kopitar and Ryan Smyth.

Peeping the dailies
Video: Kings best Bruins in SO
Here's the clean hit by Mark Stuart on Anze Kopitar
Trackbacks