Kings soldier on against Buffalo, dull the Sabres

Game 50: Kings 4, Sabres 3 (shootout)
Coming off a
disappointing loss to the Sharks
, the Kings had their work cut out for them. The top team in the Northeast skates into Staples riding a 7-1-2 record in their last ten games. Much of that thanks to their goaltender and U.S. Olympic starting goalie Ryan MIller, whose sterling 1.99 GAA is tops in the league.
It looked to be a long night, as both teams charged ahead with a full head of steam, both squads anxious to get over their most previous losses. The Kings were able to strike first, when Brad Richardson scored to give the Kings the first tally of the game. Richardson got the nod to join Anze Kopitar and Wayne Simmonds on the top line. Simmonds now has points in four straight games, and looks comfortable skating out there with Kopitar. Actually, any player who skates with Kopitar looks comfortable.
With the ascension of Richardson, coach Terry Murray put Ryan Smyth with Jarret Stoll and Dustin Brown; there's a gritty line for you. Michal Handzus centers a line with Scott Parse and Alexander Frolov. Teddy Purcell gets another crack at the Kings lineup, skating with Oscar Mollar and Brandon Segal.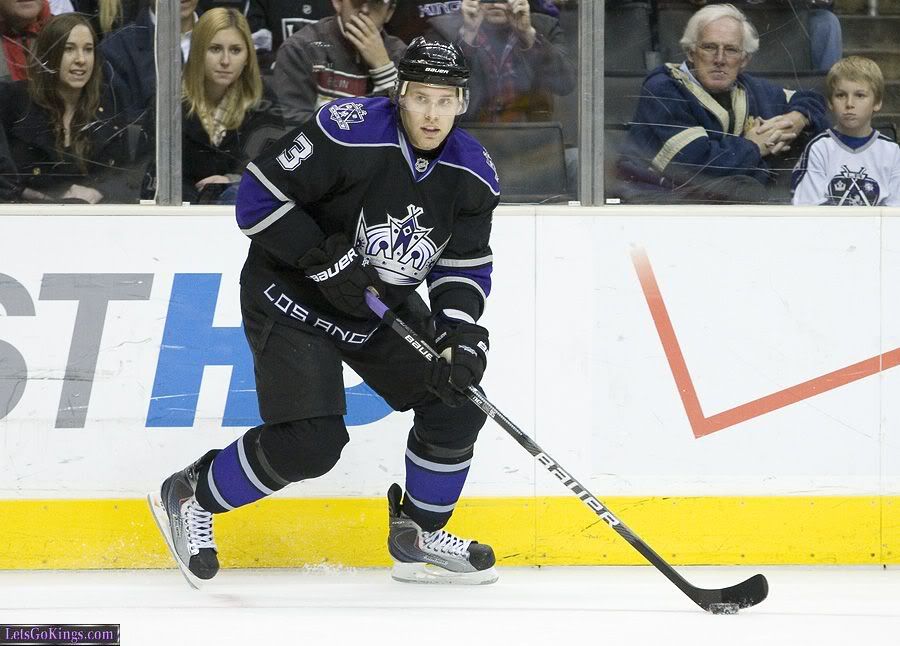 One stat that many Kings fans are now aware of and constantly worried about is Jack Johnson's plus/minus. For his career, Johnson is a -60, which looks bad. But then you must remember: PLUS/MINUS IS A WORTHLESS STAT. That coupled with the report that Dean Lombardi thinks that
Jack's progress was hindered
by going to Michigan. Those two things coupled together have many fans wondering when the Kings are going to ship him off.
Look, players that come out of college do need time to adjust to the rigors and responsibility of the big leagues. It happens in every sport. What Lombardi said wasn't too far from the truth. There was a reason why he decided to stay in school rather than report to Carolina, he was having too much fun playing college hockey. I can't blame him any more than I can blame Matt Leinart going back to USC for his senior year.
What Lombardi said wasn't too far off the truth: college hockey is not a good training ground for hockey players. That's why I really don't care about draft picks. It's just a crap shoot which players can shrug off bad habits and mold themselves into quality hockey players. The players who can step into the league instantly are rare. Some players need seasoning. Johnson was never forced to go down to the minor leagues to do that. That also would have been detrimental to his development as well.
Jack needed time to figure out how to play the game at the big league level, and he's coming along. There's a reason why he made the U.S. Olympic Team has one of the top six defensemen in the United States. He's got a ton of talent, and he's evolving into that special kind of player that other teams wish they had at their disposal. So back away, rumor mongers. Johnson is doing fine, hes not going anywhere. Kings fans hate to hear this comment: these things take time.
Just like Thursday, when the Kings took their time and kept hovering around. Like I said earlier, Miller's GAA was 1.99. When Buffalo's Craig Rivet scored, I found myself thinking "Well, there goes the game." Turns out, the X Factor: Ryan Smyth, was able to send the game into overtime with his 14th goal.
After a furious overtime period, the Kings had the Sabres right where they wanted them. The Kings have been money in the shootout, and Thursday night was no exception. Using the exact same lineup that he did against Boston earlier in the week, Murray sent out Anze Kopitar, Johnson and Dustin Brown for the skills competition.
Kopitar drew first blood and Brown sealed up the Kings' sixth straight shootout victory, giving goaltender Jonathon Quick a nice present for his 24th birthday. Quick notched another win against the Sabres. Another win? The Kings only play Buffalo once this season.
Two seasons ago,
Quick earned a win in his NHL debut
against the Sabres. facing 17 Sabres shots at Staples Center. In that game,
the Kings hammered the Sabres
, 8-2. Back in 2008, Quick was just another horse on the Kings goaltending carousel. Today, he is the Kings' No. 1 netminder, and is heading to Vancouver to represent his country in the Olympics. Talk about evolving.
• AP:
Kings beat Sabres 4-3 in shootout
The Los Angeles Kings got their sixth straight shootout victory—all on home ice. It was hard to tell by listening to their coach, who all these years later still isn't a fan of the tiebreaker.

• LATimes.com:
Kings end long homestand with win over Sabres, 4-3
The Kings had reason to be proud after scoring three regulation goals against Miller, who entered the game with a league-leading 1.99 goals-against average and will play for the U.S. in the Vancouver Olympics, and in ending their homestand on a positive note.

• LAKings.com:
Et tu, Brute?
By earning two points, however, the Kings not only maintained their playoff position but actually passed Calgary for seventh place. The Kings are now one point clear of Detroit and Calgary, with a big game looming for them Saturday at Detroit.

They said it
"It's huge. We've been pretty disappointed about how we've been playing at home as of late. To get this win is huge, and it's really going to boost our confidence going into this road swing. Hopefully we can do the same thing there." – Drew Doughty, on ending a frustrating homestand with a win.

"...it's a nice step for us, after going through a little bit of a difficult time here. I think heading out on the road now, we can draw on this experience here today, that we can dig in and play well, and deal with the adversities that are in the game." – Terry Murray, on the win

"It was not any individual. We had goals from three different lines, and that is what we need here, everybody on board and working hard, and when we have that we get a good result." – Dustin Brown, on the win.

Around the Kingdom
• The Throne Room:
Kings Overcome Officiating Incompetence for Shootout Win
The Kings played a very strong game and if one is to be honest, were the better team by a decent margin tonight. Buffalo, a very good team with an outstanding record against the Western Conference this season, took advantage of some favorable bounces - both by the puck and the guys in stripes.

• LAKingsNews.com:
A defining victory
Old school hockey was in order tonight, at least by the officials because they most definitely swallowed their whistles. The Kings should have received at least 4 more power plays including disallowing Connolly's goal as Vanek pulled down Drew Doughty. Then again, how upset can we really be? All it would have accomplished was to further deflate our power play percentage.

• HockeyBuzz's Matthew Barry:
Kings Salvage Homestand With 4-3 Shootout Win
But with time winding down, Ryan Smyth does what Ryan Smyth does best. Plant himself in front of the net and tip pucks in which is how the game was tied, ended in regulation and went past overtime for the fan favorite shootout.

From across the aisle, the Buffalo viewpoint
• Buffalo News:
Kings edge Sabres in shootout
The Sabres, who were 6-0-4 when tied after two periods, let L.A. back in with 10:57 to go. Ryan Smyth beat Drew Stafford to the top of the Buffalo crease, and a pass from Jarret Stoll bounced off Henrik Tallinder's skate before hitting Smyth's leg and deflecting into the net.

• The Goose's Roost:
The Kid
Since we'll be watching the Los Angeles Kings TV feed tonight, the name you'll hear a lot…and I mean a lot…will be that of Drew Doughty. I've seen quite a few Kings games this year — mainly because they're a very fun team to watch — and Doughty is worthy of much of the hype.

• Running With Sabres:
Past my bedtime
1:17 a.m. So THAT's why everyone talks about this Kopitar dude. Nice goal. And….Sabres lose in shootout, and it looked like Quick could have thrown his back out on that last twisty save on Connolly.

• Top Shelf:
West Coast Thoughts
Both the Ducks and the Kings broadcasts repeatedly talked about activating defensemen in the offensive zone. I don't know, for some reason that completely cracks me up every time they say it. It makes me picture Lindy Ruff holding a remote with a long antennae and a big red button. In the critical moment he yells, "ACTIVATE DEFENSEMEN!" and pushes the button and they spring into action.

• Sabres Everywhere:
Notes on Sabres vs Kings and Tier III
The Sabres' second goal was scored on the power play. It made any fan who ever yelled "Shoot!" on the PP look stupid! Their passing and poise made the aggressive LA penalty killers exhausted as they finally hit Vanek for his 14th.

Peeping the dailies
Video: Kings get SO win over Sabres
Trackbacks