Howard's humdinger: Detroit douses Kings streak
Game 44: Red Wings 2, Kings 1
The Kings have averaged 29 shots a game so far this season. On Thursday, they had 27 shots... in the second period.
Los Angeles was riding a three-game win streak heading into their matchup against the Detroit Red Wings. To say this season has been a huge disappointment for Detroit is an understatement. Bothered by injuries, Detroit got more bad news, when leading scorer Tomas Holmstrom was
sidelined with a broken foot
. Ouch.
The Kings continue to overwhelm teams in the first period, by firing off 10 shots on rookie goaltender Jimmy Howard. And when Dan Cleary scored with one second left (!) in the first period, all you could do was scratch your head and think "Eh, these things happen..." After all, the Wings outshot the Kings, 13-10.
But then the Kings took it up a notch. For the next 20 minutes, the Kings clamped down on the Red Wings and started coming at Howard in waves. All three lines kept up an incessant barrage of shots, and kept the pressure on. They finished for a club record of 27 shots in the second period. The relentless attack was also complimented by the hitting. The Kings had 31 hits through two periods, led by Drew Doughty.
Yet somehow, miraculously, the Wings kept dodging bullets. Howard looked like Neo from The Matrix, always one step ahead of what the Kings served up.
It seemed as if Staples Center was just bursting at the seams in anticipation of a Kings score. Every shot was met with ohhs and ahhs from a crowd desperate to beat the hated rivals from Michigan. And that anticipation was finally rewarded when Ryan Smyth scored his fourth power play goal in four games, when he hammered in a Dustin Brown rebound to tie the game.
Staples Center breathed a collective sigh of relief. The Kings have the Wings right where they want them. They had finally solved Howard, and it seemed like a matter of time before the Kings either scored again, or lock it up to head into overtime. Except that's not what happened.
Darren Helm bounced off the boards and snuck a puck past Jonathon Quick to put the Wings up, 2-1, with 17 seconds left (!!). Staples was deflated, except for the Wings fans, who were gloating over an absolute gift of a win.
I will say this: Howard's 51-save performance was one of the best performances at Staples I had ever seen. Credit goes where credit is due, and Howard beat the Kings, straight up.
The Kings played outstandingly well, but wound up on the wrong side of the score. Like I said, these things happen. However, the Blues are coming into Staples on Saturday. The same Blues who just fired their head coach Andy Murray, and they have lost seven games in a row. Perfect chance for the Kings to get back on track.
• AP:
Howard stops 51 shots, Red Wings edge Kings 2-1
Howard made his career-high seventh consecutive start. He was brilliant during the final 2 1/2 minutes of thesecond period when he protected Detroit's 1-0 lead with 12 rapid-fire saves—most while he was seated.

• LATimes.com:
Kings take a lot of shots but lose to Detroit, 2-1
Someday, if the Kings are lucky, they will win as many Stanley Cup titles as the Red Wings have captured. Until then, they can look at Detroit's 2-1 triumph Thursday and marvel at how thin the difference can be between victory and defeat and how close they came to bridging that gap.

• LAKings.com: Late Show:
Wings defeat Kings
The Kings set a team record for most shots on goal in a period, with 27 shots in the second period, but Howard kept the Wings afloat long enough to win the game.

• NHL.com:
Helm's goal, Howard's heroics lift Wings over Kings
Despite being outshot 52-24, the Wings improved their record against Los Angeles to 22-2 in their last 24 meetings. Detroit has won its last six games against the Kings and the last five at the Staples Center, where they are 11-1-0 in their last 12 visits.

• ESPN.com's Pierre LeBrun:
Kings not taking Wings lightly in tonight's clash
That's right, according to our friends at Elias Sports, not since the 1990-91 season have the Kings been ahead of the Wings in the standings this late in the season.

They said it
"When you keep going like that, and you get one (goal), it's a little bit of a relief, but that's what we have to learn. We can't let down. No matter if it's 0.2 seconds left in the first period or 17 seconds left in the third period, you can't let down." – Anze Kopitar, on whether there was a Kings letdown after they scored.

"I think, in past games, that's been the case. I think tonight we outplayed them by a huge margin, especially in the third. We could have had 10 goals. ... I think, in years past, they would always find a way to beat us. This game, I think, was a lot different. I think it was just a result of, ultimately, a really good goalie." – Dustin Brown, on having continued tough luck against Detroit.

"Well, I wasn't counting, really, after that. The play at the end, they make a strong play on it. They beat us off the boards and took it to the net. It's unfortunate. It's a very tough game. I hope it's not a game that comes back to haunt us later on, as we get down to the end of the season. Even to get a point out of this would have been real important." – Terry Murray, on a possible letup after the tying goal, and not getting a shot after that.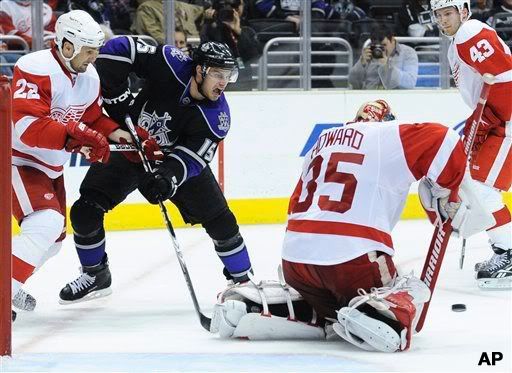 Around the Kingdom
• Press Box Perspective:
Howard Ends the Kings Winning Streak
Where did the Kings really go wrong after tying the game with less than 5 minutes to go in the 3rd? They played for the tie instead of the win.

• The Royal Half:
52 Pick Up
It was Russian Heritage Night at Staples Center and every single person of Russian Heritage in the greater Southern California showed up tonight ready to play... well, everyone but Alexander Frolov.

• HockeyBuzz's Matthew Barry:
Howard Stops 51 As Wings Score Late, Beat Kings 2-1
With 10 seconds left in the first period and Drew Doughty in the box for hooking, all the Kings had to do was simply send the puck out of the zone to end the period. But they didn't. They got lazy, and with the penalty expired, Valtteri Filppula flipped a puck towards the net and with .2 seconds left, Dan Cleary slammed in home for a Red Wings 1-0 lead.

• LAKingNews.com:
Kings 2, Kings 1
So, what does a game like this hopefully teach the Kings? I pray a painful lesson that they will never forget. Hockey is about finishing. All guts, no glory wins you nothing. Not being ready to win means you're prepared to lose. This was a gut check game.

Across the aisle, the Detroit view
• Detroit Free Press:
Howard's 51 saves, Helm's late goal highlight dramatic Wings victory
"It was relief more than anything," Howard said, "because I don't know if I could have lasted another five minutes out there. Helmer made a great play. He got the puck in the corner and took it to the net hard and he was able to slide it five-hole. It's a good thing to see from a guy that works really, really hard."

• Detroit News:
Wings win an L.A. thriller in final seconds
"I have no idea how it went in," said Helm, who has seven goals. "I just took it to the net and there was a big hole there. I think (Quick) tried to poke it and our sticks hit the puck at the same time. It just seeped in somehow.

• Winging It In Motown:
Howard's 51 Saves Helps Wings Beat Kings 2-1
But just after a penalty to Drew Doughty expired, Valtteri Filppula's shot in front of Jonathan Quick went through his legs and across the crease. Cleary was sitting on the other side, and had one of the easier goals of his life, putting it in from about 18 inches. Considering Cleary has been out for 12 games, he was sharp in earning his eighth goal of the season.

• Nightmare on Helm Street:
That. Just. Happened.
Best game I've seen from a Wings goaltender since I've been Wings fan, period (since roughly 1990ish). I actually feel dirty right now.

• The Production Line:
Jimmy Howard Drinks Your Milkshake*
I don't care how he looks doing it, as long as Howard keeps pucks on the happy side of the red line. No way Detroit deserved to win that game, and they absolutely do not without Jimmy Howard's gutsy performance.

• The Winged Wheel:
Breaking News: Crow Tastes SO DAMN GOOD!
I now bow to the altar of Jimmy. I now worship at the temple of #35. This kid was SICK tonight. And his numbers don't lie. He's been on fire and when the Wings lose, it's usually in spite of his effort and never because of him. He's really turned it around, and I'm more than happy to accept that I don't know dick about hockey.

Peeping the dailies
Trackbacks