Kings' struggles continue as the Wild steal one at Staples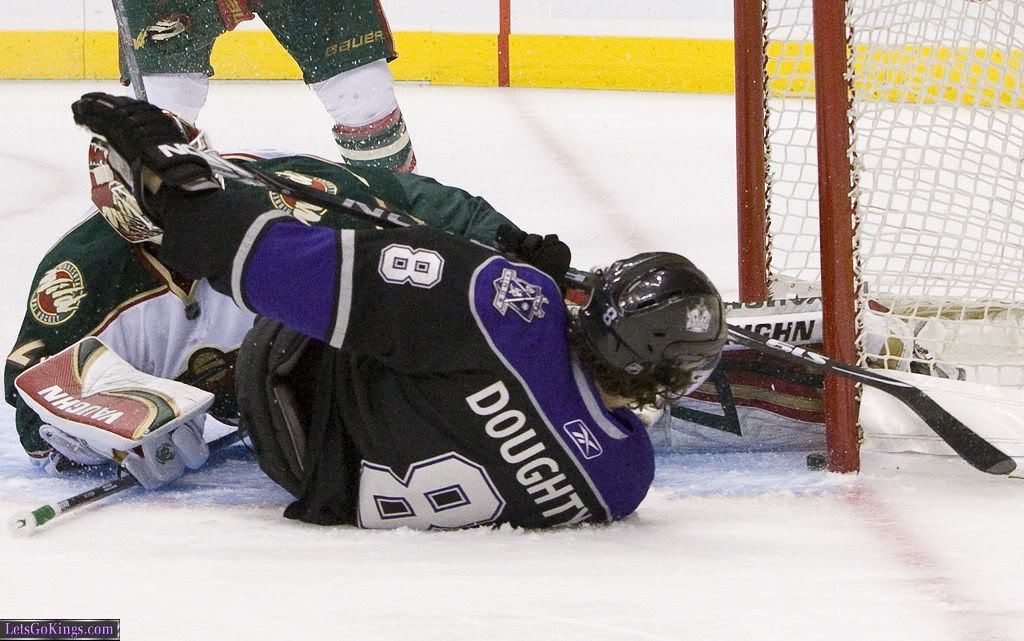 Game 39: Wild 4, Kings 3
Could this be the harbinger of things to come?
The Kings struggled heading into the Christmas holiday, and still look out of sync in the last two games. But Monday's loss to the Wild was more disheartening than
Saturday's 3-2 loss to Phoenix
. It was the first game without Justin Williams,
who is out 12 weeks
with his broken "lower body extremity."
Taking his place on the top line was Teddy Purcell, who was a healthy scratch against the 'Yotes. When asked by Rich the News Hound Hammond whether this is Purcell's last chance, coach Terry Murray was
typically non-committal
:
"I'm going to have to keep demanding it and let him run with it for a little bit her," Murray said. "Again, I know he has been given a lot of rope already, but he's been out. I think he clearly understands that he's got to get some production, and give us production on a pretty consistent basis, to stay where he is tonight. We'll watch and see, and hopefully it works out."

Purcell actually played admirably, the disappointment came from Anze Kopitar, who hasn't scored a goal since Dec. 12 against the Dallas Stars. Everyone was convinced once Ryan Smyth back on the ice, Kopitar would find his groove. But alas, Smyth made his return, and Kopitar only has one assist to show for it. Don't worry, I still believe Kopitar will find his way, hopefully sooner than later. But the Kings hopes for the playoffs rest squarely on the Slovenian's shoulders
The Kings' first goal was by Drew Doughty, but that wasn't a goal, in my opinion. Sure, it was reviewed and found to be a goal, tying the game. But what do officials know? I do know that with Doughty's goal, it moves him into
a four-way tie for goals
scored by a defenseman. He is one point away from matching last season's output.
The Wild then proceeded to reel off two goals to stifle the Kings the rest of the second period. Alexander Frolov had his stick broken on the Wild power play and decided to leave his position to fetch a new stick. Now, before you start blaming Frolov for leaving the zone, recognize that Jonny Quick had control of the puck, which should have been enough for Frolov to snap up a new stick.
But Quick's blind pass was picked up by a Wild player and quickly turned the play into a two-man advantage. Quick pass was ill-advised and if I were Frolov, I would've stayed in the zone. But these things happen.
In the third, the resilient Kings battled back and got hard-earned goals by Jack Johnson and Scott Parse to successfully come back from a two-goal deficit. Momentum seemed to have finally swung in the Kings favor. For 12 seconds.
That's when former King Eric Belanger scored his second goal of the night, dealing the Kings a fatal blow that they succumbed to two minutes later. Hey, wasn't Belanger dealt for Jack Johnson? Yeah,
that's what I thought
.
A frustrating way to lose, considering the Kings outshot and outhit the Wild. L.A. is mired in their second three-game losing streak of the season. And unless the lines solidify and start producing, that streak might continue. Their next three games are tough ones, two on the road against Calgary and MInnesota and the Capitals come to Staples Center Saturday.
• AP:
Belanger leads Wild over Kings 4-3
Only two players are left on Los Angeles roster from Eric Belanger's final season with the Kings. Alexander Frolov and Dustin Brown were both on the ice when their ex-teammate scored each of his two goals Monday night for the Minnesota Wild — including the go-ahead score with 2:25 remaining.

• LATimes.com:
Kings are now on really thin ice
"It's unbelievable how quick that happened," Doughty said of the mood swing. "We had all the power going in and we felt if we took it to overtime we were going to win it."

• LAKings.com:
Kings fall to Wild
"We have to eliminate little mistakes throughout the ice,'' Kings defenseman Matt Greene said. "We were making mistakes on every one of their goals. We just need to tighten up a bit and we'll be fine. We came out with a lot of urgency in the third."

They said it
"I thought we played well enough to win today. We're playing well. We didn't think we played well in Phoenix, but we played well enough to win today. We just need to keep going with the same thing." –coach Terry Murray on the end result

"We had pretty good offense at times, but I think we just have a bit of rustiness which made the difference in the game. I am confident we are going to get our game back on track. We had two and a half minutes to possibly get another goal, but we just fell short. After such a huge goal, we can't have defensive breakdowns like that." – Anze Kopitar, on the game

Across the Kingdom
• The Royal Half:
The Color of Losing
This is one that the Kings are going to wish they had won. Or at least got a point from. During the whole game, this Kings team was at once skating 4 aggressive lines that were each getting scoring chances and at other times a team making bonehead plays that led to costly goals.

• LAKingsNews.com:
Overcoming adversity is a prerequiste to becoming a champion
Injuries are opportunities to test the depth of a team, a depth that is mandatory if the hockey team expects to have a chance in the playoffs. The Kings found ways to win with Smyth, Simmonds and Johnson out of the lineup. For them to earn their way into the post season, they will have to find the same with Justin Williams out, be it for a month, two or the entire season.

• Mayors Manor:
Need to fix things - Quickly!
Kopitar and Frolov need a swift kick in the rear...perhaps even more. Your two best players need to be your two best players on a consistent basis. Or at the very least, more often than what these two are bringing right now.

• HockeyBuzz's Matthew Barry:
Kings Drop 4th Out Of Last 5, 4-3 to Wild
Brad Richardson, who worked his butt off all night, along with recently recalled Scott Parse kept the puck in the offensive zone. Doughty picked up a Richardson rebound and while falling down, whiffed on the shot. His momentum carried him into Backstrom and the puck scooted underneath for Doughty's 7th goal of the season.

• Frozen Royalty:
Minnesota Hands LA Kings Their Third Straight Loss
From across the aisle, the Minnesota viewpoint
• Pioneer Press:
Three-goal second period sparks Wild's 4-3 victory over Kings
Even though temperatures crept into the high 60s on a sunny afternoon along the sandy Pacific coast, Monday was no day at the beach for the Wild.

• Hockey Wilderness:
Minnesota Wild vs LA Kings: Game Recap
The Wild once again pulled out a victory by the skin of their teeth. What for a beautiful game winning goal by Eric Belnager after the Kings tied the game late, the Wild would have experienced a collapse generally saved for their professional football counterparts.

Peeping the dailies
Trackbacks