Kings are Quickly gaining respect, defeat Oilers
Game 36: Kings 3, Oilers 2
Coming off
a rough loss against Vancouver
, the Kings match up against the surging Oilers, who just came back from a 5-1-0 roadie. Everyone is now aware of L.A.'s talent now, and everyone's gunning for them. The question remains, which King will come forward and assume the mantle of greatness this game?
Brad Richardson draws first blood in a spirited first period that the Kings look way sharper than they did in last night's game. The assist goes to the Cap'n, Dustin Brown. Later in the second, Brown scores to loft the Kings to a 2-goal lead, as Richardson paid him back with a beauty of an assist. Brown has really stepped it up recently, something he's been needing to do as leader of this young squad.
But the Oilers came storming back to eventually tie the game in the third period. The vocal crowd at Rexall Place was spurring their team on, providing the Oil with enough gas to continue their assault on Jonny (Don't Call Me Jonathon) Quick. Thing is, no one bothered to tell Quick that crowd noise was supposed to intimidate him.
Because it didn't, not one bit. Quick turned away chance after chance after chance, showing the type of poise that has been unheard of by Kings netminders in recent history. He put his 25-of-28 save night behind him, and tightened the screws to only allow one goal in 29 shots Wednesday. He credited, who else, his team. From
Rich Hammond
:
"I felt good out there. I got a lot of help," Quick said. "I had a couple posts, and I had Greener clear one out from behind me that slipped through, so I got some luck. We did a great job of blocking shots and clearing out rebounds. It was a real good win."

The injuries continue to mount, as the mighty Jack Johnson, he of the awesome retro purple shirt, was felled by an ankle injury in the second period. But as they have done seemingly every game, the Kings absorbed the hit and kept on truckin'. Jack tried to come back in the second, but couldn't go. A "fluoroscopic x-ray"
revealed nothing
, so they'll look at it again in Calgary.
The National Nightmare is over: Sean O'Donnell finaly potted a goal for the Kings. It was looking like he was going to go 0-for-the-gopher for his career as a King. Everyone talked about Anze Kopitar's 13-game goal scoring slump. Try 157 games. That 719 days without lighting the lamp. He had only shot the puck 54 times in between goals.
Now granted, that's not his game. And at least he had a sense of humor about it:
"It's the law of averages. If you get enough shots on net..." O'Donnell said.

The first star of the game (as well as
Yahoo's First Star of Tuesday
and the
NHL's First Star of the Week
, as it turns out) was Quick, whose steadying influence between the pipes has transformed this team from perennial pretenders to actual contenders. Tonight was a real treat to watch him dive around, blocking shots and scooping up rebounds. He played with a ton of intensity and the team is feeding off of that. Whatever his pre-game ritual is, keep doing it.
• AP:
O'Donnell scores in 3rd, lifts Kings to 3-2 win
"I haven't felt angry this year yet, but I am angry now about how we played," Oilers coach Pat Quinn said. "How could you like the result? We were the team that was supposed to be rested and fresh. I don't know if there is any excuse for being dumb."

• LA Times:
Kings defeat Oilers, 3-2, retake top spot in West
"(O'Donnell) almost caught my record there for non-scoring goals," said Coach Terry Murray, who guessed his worst drought was 200 games.

• LAKings.com:
Unlikely hero lifts Kings
Quick was at his best when the Kings had some defensive breakdowns, although he also got some help with one shot off the post and, later, a loose puck in the crease, behind the prone goalie, that Greene cleared out of danger.

• NHL.com:
Kings are best in West after 3-2 win over Oilers
"Sometimes the ugly goal is the nicest," O'Donnell said after the victory gave the Kings 47 points, two more than Pacific Division rival San Jose.

• Yahoo:
Team report
In the Kings' last trip to Edmonton, on Nov. 25, defenseman Matt Greene scored the game-winning goal with his first goal of the season. This time, the same scenario played out, except it was defenseman Sean O'Donnell scoring his first goal of the season, in the third period, to give the Kings the victory.

•Yahoo:
Tuesday's Three Stars: Jonathan be nimble, Jonathan be Quick
The surging netminder collected 27 saves in a 3-2 victory at Edmonton and the degree of difficulty was relatively high on most of the stops (that's life when you play with a young defense). Quick is now on a 7-1-1 run in his last nine starts and the Kings have won eight of their last 10 games.

• NHL.com:
Quick, Dan Sedin, Bryzgalov named NHL's Three Stars
After finishing 14th in the conference last season, the Kings have ridden an 8-1-1 streak to the top of the charts. And helping lead their charge is goaltender Jonathan Quick.

They said it
"We have a lot of players out of the lineup right now, so it was really important to come and play the right way, with a good checking mentality and it was nice to score the first goal. That was important for us here tonight." – Terry Murray, about winning with a short-handed lineup.

"When you lose a player, the players in here don't really think about it. We had one period to play, 20 minutes, and everyone had to pull a little extra weight. Fortunately, we had Whiskey [Drewiske] playing forward, so it worked out well for us." – Dustin Brown, on losing Jack Johnson in the third period.

Around the Kingdom
• LAKingsNews:
Kings survive the Oilers' best and finish them 3-2
For parts of this game, the Kings resembled London during WWII between September 7, 1940 to May 10, 1941. Unlike the "blitz" however, the Kings had a secret weapon against the relentless bombing – a force field if you will that guarded the Kings' territory like a father with a shotgun and a shovel defends his daughter's virginity. Too much? I'm just getting started. (Ed. note: this blog entry is hilarious. Give it a read...)

• A Queen Among Kings:
Another One Bites The Dust; Kings 3, Oilers 2
This current swing through Western Canada isn't breaking down doors; one win and one loss is decent and I'm content so far. The Kings were due for a loss and having it come against the Vancouver Canucks doesn't break my heart in the least bit.

• The Throne Room:
Unlikely Hero
If there is any solace, it's that the Flames have lost three straight, although that may be bad news considering coach Brent Sutter will have them breathing fire Thursday.

• The Royal Half:
Primary, Secondary, Tertiary
Can you guess the 4th line for tonight's game? It's a trick question... the Kings only skated 1 non-4th line tonight! But it didn't matter as they took down the Edmonton Oilers and took back 1st place in the Western Conference!

• HockeyBuzz's Matthew Barry: Kings Blow 8th 2-Goal Lead, But Win Again 3-2
The Kings ALMOST played the entire game without a power play. It took the refs until the 3 minutes left in the 3rd period and it couldn't have come at a better time as Matt Greene was in the box for holding.

• Examiner.com:
Kopitar and Doughty would be All-Stars
I put together a team from each conference consisting of 26 players with 15 forwards, eight defensemen, and three goaltenders. I then further handcuffed myself by requiring at least one player from each team. Here's the breakdown of players: (Ed. note: Guess who makes it? Moncrief does a good job on the teams. Go check it out...)

From across the aisle, The Edmonton (and elsewhere) viewpoints
• Edmonton Journal:
Kings D have Oilers' number
On the winning goal, Deslauriers had trouble seeing around Jason Williams, who was providing some shade in front of the net, but he was still mad at himself.
"It didn't hit anything ... it went in all the way. I'm a butterfly goalie. I go down, it should hit me somewhere," said the Oilers goalie, who gave up goals to Brad Richardson and Dustin Brown in the first and second.

• The Copper and Blue:
Edmonton - Los Angeles post-game: Jon be nimble, Jon be Quick
Haven't we seen this movie before? Oilers battle the Kings to a standoff for 55 minutes and then some big palooka who hasn't scored since before The Flood manages to find twine to decide things in regulation? Screw Hollywood and its corny endings anyway.

• OilersNation.com:
Oilers vs. Kings Postgame: Pat Quinn Moves To Stage Two
No King was outshot as badly as ex-Oiler Matt Greene, who was busy being lionized by the play-by-play crew; I'm not saying he had a bad game but he kept getting matched up against the Oilers' top two lines and those lines both did a good job keeping the puck in the right end of the rink.

• The Puck Stops Here:
Kings lead the West
As they stand right now, Los Angeles is a good team. As long as their core continues to play well, they will have a good record. They are unlikely to become a top level team as long as they do not have top goaltending. I doubt they will stay at the top of the West Conference all season, but they should be a playoff team. They need better goaltending to take the next step forward. (Ed. note: Yeah, because Quick sucks...)

• Low On Oil:
Kings defeat Oilers 3-2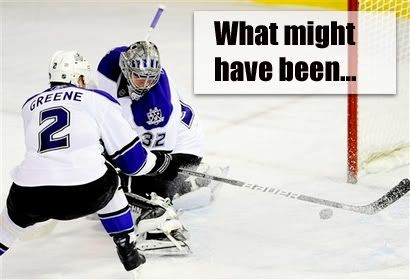 Peeping the dailies
From HockeyFights.com:
Raitis Ivanans vs. Jean-Francois Jacques
(God, I wanna kick his ass, just because of the way his name sounds...)
Trackbacks