Kings utilize alternative fuel to power past Sens
Game 29: Kings 6, Senators 3
It seems the Kings have embraced what former Presidential candidate Al Gore has been selling for years: using alternative energy.
When Ryan Smyth went down to injury, many Kings fans sighed and said "here we go again". The Kings franchise is no stranger to the man-games-lost column of the stat sheet. And when Smyth exited the top line, production dropped. Kopitar had already started to falter, even before Smyth's
upper body injury
against the Panthers
. And the Kings lost three of their next five games.
But that was Snore-vember. This is now the
December to Dismember
, and the Kings are undefeated after taking the Senators to the woodshed. And the concern over who would step up their game has clearly been answered.
Wayne Simmonds has become mine and everyone's favorite player, and not just because he's scored four goals in the past five games. The way he plays the game with such energy and skill gives Kings fans reason for relief. It's his work ethic, of constantly pushing and playing that makes him a solid player. His +10 plus-minus is evidence that he plays the game the right way. He plays the majority of his minutes at even strength, and has benefited sharing a line with Michal Handzus.
Simmonds got the penalty shot when he was pulled down by Filip Kuba. He took the puck and slowly skated toward the goal, almost shark-like in his approach. Then he deftly tucked it under Brian Elliott to make it 2-1 in the first. It was Simmonds first NHL shootout goal, but he made it look easy.
That's when the wheels fell off for the Senators, who quickly had not one, not two but three players go to the box in under a minute near the end of the period. That meant the Kings would come back in the second with a two-man advantage and plenty of time to pump the puck at the net and pot some goals. Perhaps Anze Kopitar would break his 10-game scoring slump.
Nope. They couldn't muster many shots, even with two extra guys on the ice. Killing off those penalties gave the Senators new life, and they proceeded to tie the game later in the second. There was a scary moment, when Anze Kopitar crashed against the boards and stayed crumpled on the ice as playcontinued. It led up to the Senators' third goal.
I don't have to tell you what EVERYONE was thinking after seeing Kopitar doubled over in pain.
It's the sight
that no one wants to see. But as it turned out, it probably slapped the Kings in the face and forced them to realize they were going to have to wake up.
Things started getting antsy, as it looked like the game was slipping out of the Kings grasp. That's when Drew Doughty's power play goal gave the Kings a much-needed boost, and snapping a mini-4-game scoring slump of his own. Kopitar had an assist of the goal. And even better, with the goal, Drew matched last year's offensive production.
After that, the Kings came out in the third and knew what they had to do to insure a victory. They were huge in the faceoff circles, with both
Handzus and Kopitar winning over 80 percent of the drops. And it was Kopitar's linemate Justin Williams who scored twice to cement the win and send Ottawa on to Anaheim with a raw butt from such an ass-kicking.
I think Williams
summed it up
best when he told Rich and the assembled media: "We've won three in a row, and we've won them inthree different fashions. The thing I'm happy about is, good teams andgreat teams find a way to win games when they're not at their best. Wewere definitely not at our best. We were loose tonight, but we ended upcoming away with two points."
So now I can stop harping on secondary scoring now. It took a while for them to find their way, but the Kings look to be back on track. next up is the always tough St. Louis Blues. With a 1 p.m. start, maybe the Kings could use some solar energy to help power past the Blues. LA Live opened their ice rink across the street... why not have the game outside?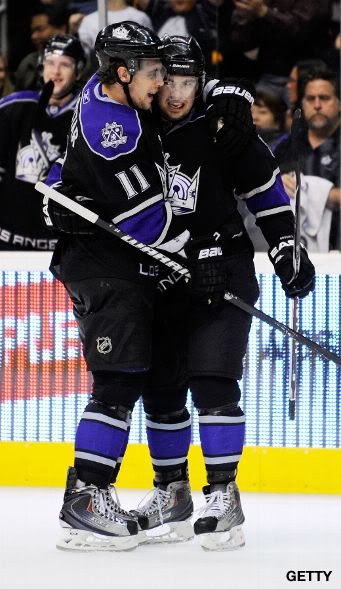 • AP:
Kings light up Senators in 6-3 win
Kopitar snapped a four-game scoreless skid with an assist in the second period on the goal by Doughty, the teenager who has seven goals this season after scoring six as a rookie last season.

• LA Times.com:
Kings' supporting cast stars in 6-3 victory over Ottawa
Doughty was chosen second overall by the Kings in 2008. In the next draft, to be held at Staples Center on June 25-26, they will have a much later pick if they pull out more wins such as this.

• LAKings.com:
Kings knock out Sens
It's certainly not a game that will be televised as a "classic" a decade from now, but the Kings did manage their third consecutive win and pushed past Colorado into fourth place in the Western Conference thanks to some timely goals from less-likely sources.

• Yahoo:
Team report
Leading 3-1 early in the second period, the Kings seemed in control, but the Senators scored twice in less than four minutes, in the middle part of the period, to tie the game. The turning point, in the Kings' favor, came with 5:49 remaining. The Kings had failed on a lengthy power play at the start of the period, but Drew Doughty's power-play goal gave the Kings the lead for good.

• NHL.com:
Report: 2010 Entry Draft headed for L.A.
The NHL will officially announce Friday that the Los Angeles Kings will host the 2010 NHL Draft at Staples Center on June 25-26, the Kings are reporting on their Web site.

They said it
"That means we're growing. We're becoming more responsible, we're learning to play with the lead and play with confidence. Nothing is perfect yet. We haven't had it perfect yet. We've let teams come back every now and then, but we've always found ways to secure the two points. When we have the lead, we want to try to shut it down. That becomes the mentality." – Justin Williams, on being 11-0 when leading after two periods

Across the Kingdom
• LA Kings.com:
A bigger Simmer
"I'm seeing a hockey player emerge, that's what I'm seeing," coach Terry Murray said. "It goes to, why do players take it to the next level? How do they become NHL players? Well, you have to have, obviously, some qualifiers to get here, to be given the opportunity. Then it comes down to hard work.

• A Queen Among Kings:
A Game of Shinny
A great stat from the night was that Michal Handzus and Anze Kopitar both rocked it in the faceoff circle with 81% and 80%, respectively. Also, Wayne Simmonds has continued to impress everyone watching. Tonight he drew a penalty shot where he faked out Mike Elliott and slide the puck between his legs getting the lead back for the Kings. I'm so pleased with his entire game and development so far this season. Go Simmer!

• HockeyBuzz's Matthew Barry:
Kings Crown Senators 6-3
What's happened to Davis Drewiskie? 11 games ago he was leading the Kings with a +10 – Now, he's -8 in those last 11 games?

• LAKingsNews.com:
KIngs rule over Senators
To those fans who stand behind Patrick and Jim and make thumbs up, ok, and related signs 100 times over, unless you are female, hot and willing to throw a little NC17 in there, please stop the insanity. You look absurd and there is nothing to be proud of there…you too Waldo…

• LA Kings Examiner:
Kings' third period filibuster leads to win over Senators
The Los Angeles Kings have used many different ingredients for success this season. On Thursday night at Staples Center, the recipe included several helpings of backchecking and letting things 'Simmer' to a proper boil. (Ed. note: Nice to have Moncrief back in the fold...)

• Kings Kool-Aid:
36 points in 29 games…is that good?
How many times have the Kings had 36 points or more at the game 29 mark? Three times. 1988-89, they were one point better; 1980-81, they were seven points better; 1974-75, they were the same as this year. And, yes, they made the playoffs each of those years.

• Inside Hockey:
A look behind the mask: Jonathan Quick
This season has seen a Kings team grow from playoff hopeful to playoff contender thanks to the solid play of this Olympic hopeful. With the likes of Anze Kopitar, Ryan Smyth, Dustin Brown, Drew Doughty, and a solid core behind them, this Kings club is definitely a club to keep an eye on for the foreseeable future.

From across the aisle, the Ottawa viewpoint
• The Silver Seven:
Sens outclassed by Kings
Sens killers: Drew Doughty, Justin Williams Not to sound like Pierre McGuire or anything, but Doughty played extremely well tonight. Not only was he strong in his own end, but he also put up a rocket of a shot for a powerplay goal. Justin Williams had two goals and an assist on the night.

• The Universal Cynic:
Quick hits from SoCal
For the record, The Driver has been on Wayne Simmonds's bandwagon for some time. I think a team with Fisher (with country/American-Idol-hybrid-music-offensive-firepower) and Simmonds would send him into a seizure. You know -- the good kind.

• Sens Town:
No Hollywood Ending
Awful just awful. I wanted an exciting game and got one, but theundisciplined play from the Sens continued. I don't understand how theydon't understand that they have to play smarter.

• Sens Chirp:
Meh
Efforts like that seem to be pretty much the norm when this team plays out West. Not sure what it is but the Senators always struggle on their trips to the Left Coast.

• Hockey Capital:
Game file: Sens vs. Kings
Williams picked the right time to chip in, scoring the only two goals of the third period to bury the pesky Senators for good. He added an assist to lead all Kings scorers.



Message board meltdown
• Silver Seven:
Game 26: Ottawa Senators at Los Angeles Kings
(Ed. note. This simply had the title of Go Senators!)

• HFBoards:
Ottawa Senators @ Los Angeles Kings
inthewings: I hate watching the Kings because I hate watching Anze Kopitar. It hurts too much. He's like the girl you turned down in high school because she was ugly and you wanted to date someone else. Then you find out that the girl turned into a beautiful woman and the someone else is Brian Lee.

Northern Vibe: embarrassing...hang your heads boys...a large number you sucked massive rhino balls this evening.

Peeping the dailies
Trackbacks