Project Runway: the Hockeywood Edition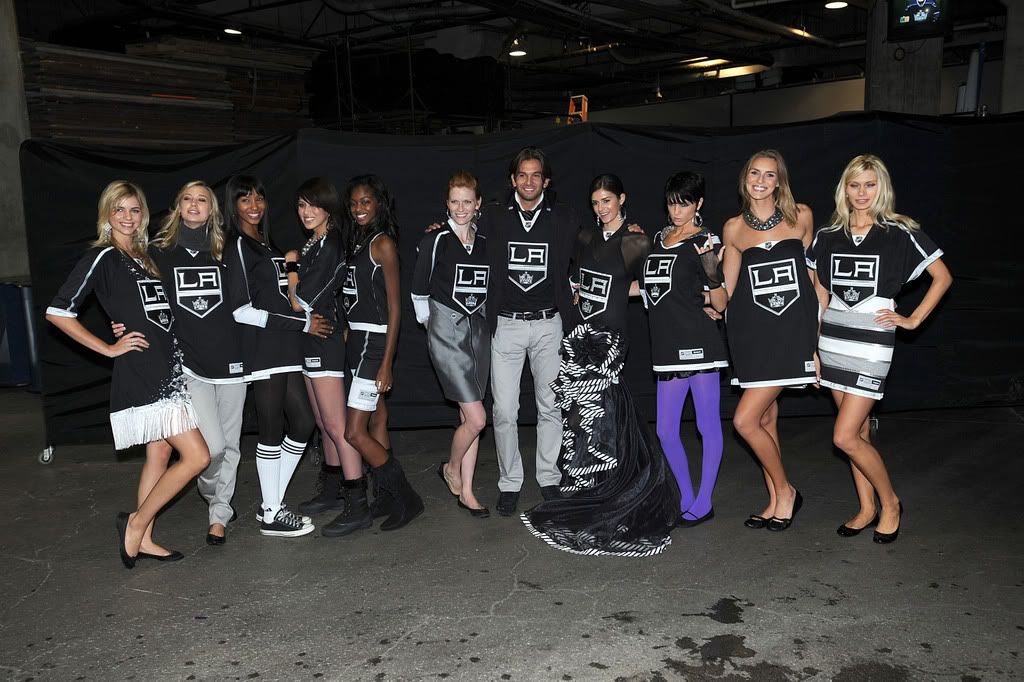 I'm not going to deny the fact that I never watched a fashion reality show. I will admit to being married, so you can fill in the blanks. During the first intermission between the Kings and the Avalanche, the Kings asked FIDM to have students design some cutting-edge outfits involving the new alternate jersey. According to the
press release
, there was only one rule: Create a clothing design with the jersey while keeping the logo
sacred
. Here's but a few...
Here's the jersey treated as a mini-skirt/hoodie, coupled with a pair of purple stockings and fingerless lace gloves. I'm listing this first, because it's the only outfit with a different color other than black and white.
Here's the jersey as a skirt with flared sleeves and horizontal stripes at the bottom, in case you just wanted more stripes. Kudos to the designer, venturing out on the ice in those stilletos...
I'm sensing a theme here throughout this competition. Here's the jersey getting the skirt treatment, this time as a strapless number. In case you didn't notice, the pockets are the sleeves. And the NHL logo is smack dab in the middle of her cleavage. Nice.
Here's something different... the only thing left from the jersey is the NHL crest and the logo, bedazzled and put on a black wedding dress. How do I know it's a wedding dress? By the bouquet, duh.
Not part of the actual fashion show, but the Ice Girls got new outfits as well. I'm surprised there weren't more bare-midriffs in the competition. However, I'm pretty sure they only had the one logo from the jersey, so the FIDM students probably didn't have access to smaller versions, which I'm sure they might have preferred.
Jarrett Stoll's fiancee and someone who knows a little something about fashion shows, supermodel Rachel Hunter smiles as she wears a sweater/cape thingy during the fashion show. Hey, it's black...
Sure the guy in me scoffs at this, a fashion show during a hockey game. But the fact of the matter is... the jerseys didn't look as bad as I thought on the ice. I still wouldn't buy one, because $114 for a replica jersey is crazy. Plus, I still want to buy a throwback black Jari Kurri Kings jersey. Or maybe Robb Stauber. Or even current Kings assistant coach Mark Hardy.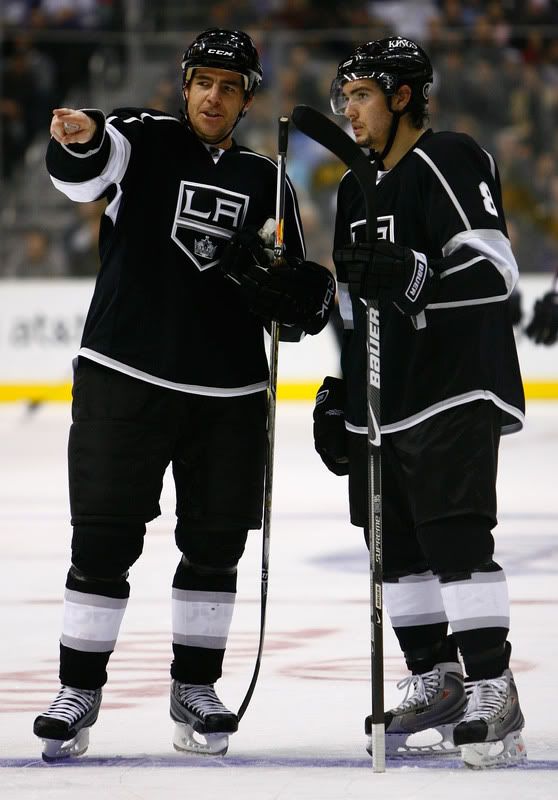 In the Sports Department, one of the copy editors said the new unis looked like pajamas. I was actually more geeked about the Kings font on the helmets. For me, that was a nice addition to the past.
Trackbacks